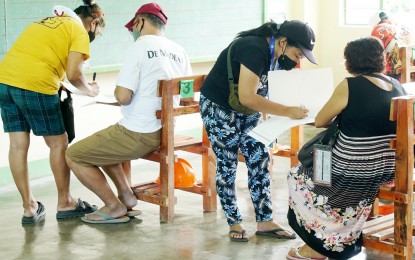 MANILA – The Commission on Elections (Comelec) on Monday assured taxpayers' money will not go to waste in case the Barangay and Sangguniang Kabataan Elections (BSKE) will be postponed anew.
Comelec chairperson George Garcia said the printing of ballots has yet to start amid calls to reset the BSKE, slated December 5, for the fourth time since 2016.
"The public has nothing to worry with regard to any wastage of the people's money. Why? Because, if we buy a ballpen, that's the same ballpen we'll use in the event of a reset," Garcia said in a statement.
He said it has happened before in 2017 when the same ballots were used when the BSKE pushed through the following year.
There are three bills filed in Congress to move the BSKE either to May or December 2023 or to May 2024 to allow the government to instead use the funds for pandemic response.
The October 2016 BSKE was first moved to October 2017 and then to May 2018.
The succeeding BSKE in May 2020 was reset to Dec. 5, 2022.
The Parish Pastoral Council for Responsible Voting (PPCRV) does not support pushing back anew the BSKE.
"The BSKE and Covid-19 response are both key priorities with their respective budget allocations and the importance of one should not be made the reason for diminishing and deprioritizing the other. The choice to fund the essential Covid programs should not preclude a nation's right to cast a vote for or against their community leaders in accordance with the mandated schedule," the Church-based election watchdog group said in a statement.
The PPCRV said postponement deprives the citizens not only of the right to vote for community leaders but also of the critical need to replace those who do not adequately exercise their mandates.
The law mandates that synchronized Barangay and SK elections be held every three years on the first Monday of December. (PNA)