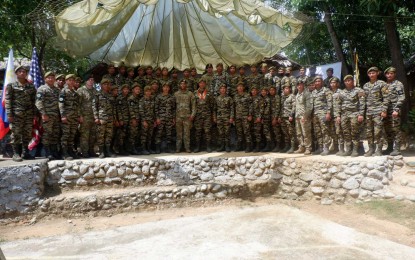 MANILA – The Philippine Army's Special Forces Regiment (Airborne) [SFR(A)] and the US Army Special Operations Command Pacific (SOCPAC) on Monday formally started the month-long Balance Piston 22-3 exercise geared at enhancing interoperability between the two elite units in Palawan.
"SFR(A) and SOCPAC teams will conduct bilateral training drills until September 16, 2022 at the Joint Maritime Law Enforcement Training Center in Honda Bay, Puerto Princesa, and the Headquarters of the 18th Special Forces 'Riverine' Company in Punta Baja in Rizal town," PA spokesperson Col. Xerxes Trinidad said in a statement Tuesday.
The bilateral exercise will focus on long-range marksmanship, combat marksmanship, close-quarter combat, small unit tactics, unconventional warfare, maritime operations, and a full mission profile or culmination exercise.
"We are certain that this will enable us to exchange tactics, techniques, and procedures to enhance interoperability between Filipino and US Special Forces," SFR(A) assistant chief-of-staff for education and training Lt. Col. Paulo F. Baylon said.
Balance Piston is a regular bilateral training exercise between the special operation forces of the two countries which started in the early 2000s.
New Navy officials named
Meanwhile, two of the Philippine Navy's major units welcomed their new commanders in a joint change of command ceremony presided by PN chief Vice Admiral Adeluis Bordado Monday.
Maj. Gen. Charlton Sean Gaerlan was sworn in as the new commandant of the Philippine Marine Corps (PMC) and Brig. Gen. Joseph Ferrous Cuison took the helm of the Naval Reserve Command (NRC).
Gaerlan, a member of the Philippine Military Academy (PMA) Class of 1989, headed the Armed Forces of the Philippines' premier education and training institution, AFP Education, Training and Doctrine Command, prior to his designation as the 35th PMC commandant.
He also held key positions as the assistant deputy chief-of-staff for intelligence, 3rd Marine Brigade commander, the Marine Corps Inspector General, deputy commander of Naval Forces Western Mindanao, and the deputy brigade commander of 2nd Marine Brigade.
"His leadership capabilities, management skills, and excellent academic background paved for numerous opportunities that shaped his agility in decision-making. I believe these will allow him to lead the Marines well," Bordado said.
Meanwhile, Cuison, a member of PMA Class of 1990, previously had a stint at the AFP General Headquarters as the deputy inspector general following his designations at the PMC inspector general office as administrative officer, chief investigator, and readiness evaluation officer.
He also served as the director of the Naval Operations Center, the commanding officer of the Force Reconnaissance Group, and the assistant chief-of-staff for personnel of the PMC. (PNA)