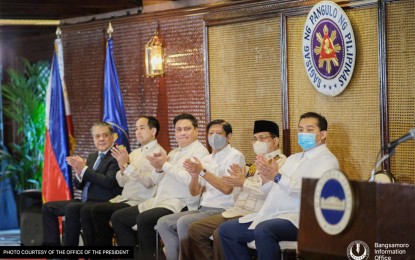 MANILA – The United Nations Philippines welcomed the Marcos administration's "prompt" appointment of Bangsamoro Transition Authority (BTA) members.
In a statement Monday night, UN Resident Coordinator in the Philippines Gustavo Gonzalez said this indicates that President Ferdinand Marcos Jr. prioritizes the peace process and its successful implementation.
Marcos on August 12 administered the oath of office to 80 newly and re-appointed members of the BTA, 41 of which are from the Moro Islamic Liberation Front (MILF) while 39 are from the government.
"The composition of the BTA with newly and re-appointed members is expected to allow for a smooth transition process and continuity of BTA programs, projects, and legislative measures on the one hand, and greater inclusivity representing all the major MILF and MNLF factions and the Bangsamoro Autonomous Region in Muslim Mindanao (BARMM)'s diverse communities for the first time, reiterating the President's call for unity," Gonzalez said.
"We also welcome the experienced and well-qualified women BTA members," he added.
The UN official said the expected appointment of members to the peace process mechanisms would also contribute to the accelerated joint implementation of political and normalization tracks of the peace agreement.
The UN, he said, would remain committed to continuing promoting peace in the Bangsamoro by strengthening the foundations for inclusive institutions and respect and protection of human rights.
The UN's support to BARMM comprises the contribution of more than 10 resource partners, including the UN Peacebuilding Fund, as well as joint work and coordination with the Office of Presidential Advisor on Peace, Reconciliation, and Unity.
In 2021, the UN system represented by 15 agencies and more than 200 staff members in BARMM provided direct support and technical assistance to relevant government agencies in a wide range of development, peace, and state-building sectors.
The deployment of an area coordinator to Cotabato in November 2021 also established the UN's Joint UN Coordination Office in BARMM, reinforcing the international organization's work in the region. (PNA)