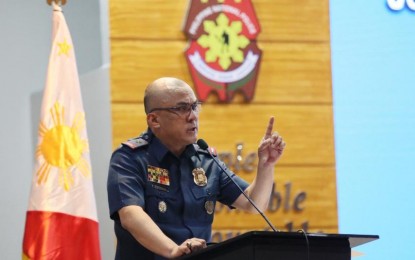 MANILA – Brig. Gen. Jonnel Estomo, the new chief of the National Capital Region Police (NCRPO), has laid down his "SAFE" program, a strategic plan that would ensure the safety and protection of communities against criminal elements.
During assumption rites at the NCRPO headquarters in Camp Bagong Diwa, Taguig City on Monday, Estomo said this formula will be the guiding principle during his administration.
"SAFE NCRPO, a police organization that is Seen, Appreciated, Felt, and Extraordinary by the community we serve and protect through our extraordinary deed. I am hopeful that we can work together in ensuring the success of our anti-criminality and peace keeping campaigns and help contribute to the transformation of the PNP (Philippine National Police) in the quest to become a highly capable, effective, and credible police organization. One that enjoins confidence, trust and respect of the people we serve and protect," Estomo said.
Estomo also vowed to follow the marching orders of President Ferdinand Marcos Jr. to uphold the Constitution at all times.
"We will remain steadfast in our fight against criminality, especially against illegal drugs, but as such as we expect our best effort to eliminate crime, we must do so with a high standard for human rights, even of those who criminalize themselves," he said.
Before his designation as NCRPO chief, Estomo previously served as chief of the Philippine National Police-Anti-Kidnapping Group (PNP-AKG), and director of the Police Regional Office in Bicol (PRO-5), which was named the Best Regional Police Office in this year's observance of the 121st Police Service Anniversary.
He replaced Maj. Gen. Felipe Natividad who was named as acting commander of the Area Police Command (APC) Northern Luzon.
"My stint as the Regional Director of NCRPO, no matter how short is still full of challenges, together we rose to the occasion and hurdled those challenges with calm and ease. Needless to say, I owed this milestone to the men and women of NCRPO who had tirelessly dedicated themselves to making these events trouble-free," Natividad said.
Under Natividad's watch, the NCRPO carried out comprehensive security plans during major events such as the May 9 elections, the oathtaking of Marcos as the 17th President of the Philippines, and his first State of the Nation Address (SONA).
On the war on drugs, more than PHP1.3 billion worth of illegal drugs were confiscated during the conduct of 5,244 police operations that led to the arrest of 9,609 drug suspects.
Subsequently, surveillance efforts and manhunt operations to arrest most wanted persons were also heightened.
Some 20 national level most wanted persons (MWPs) and 2,796 regional and district level MWPs were also arrested.
The NCRPO also commit to the "No take policy" that resulted in 4,215 illegal gambling operations wherein 12,786 persons were arrested and PHP2.85 million worth of bets were seized.
The NCRPO covers five districts -- the Manila Police District (MPD), Quezon City Police District (QCPD), Northern Police District (NPD), Southern Police District (SPD), and Eastern Police District (EPD).
Also sworn in during Monday's rites were the five new chiefs of the NCRPO's police districts -- Brig. Gen. Nicolas Torre III (QCPD); Col. Kirby John Kraft (SPD); Brig. Gen. Andre Dizon (MPD); Col. Wilson Asueta (EPD) and Col. Ponce Rogelio Penones Jr. (NPD). (PNA)