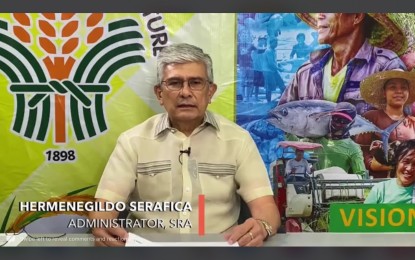 MANILA – Sugar Regulatory Administration (SRA) administrator Hermenegildo Serafica has resigned from post following the controversial sugar importation order sans the approval of President Ferdinand "Bongbong" Marcos Jr.
Serafica's resignation was confirmed by Press Secretary Trixie Cruz-Angeles in a press statement on Tuesday.
Cruz-Angeles said the resignation of Serafica, as well as SRA board member Roland Beltran, has been accepted.
"We confirm the acceptance of Administrator of the Sugar Regulatory Administration Mr. Hermenegildo Serafica's resignation, as well as the resignation of Atty. Roland Beltran of the Sugar Regulatory Board," Cruz-Angeles said.
The "immediate" acceptance of their resignation was contained in the two letters dated Aug. 15 and separately sent to Serafica and Beltran.
The letters were signed by Executive Secretary Victor Rodriguez, on behalf of Marcos.
"On behalf of President Ferdinand R. Marcos, Jr., I wish to inform you that your resignation has been accepted immediately," the letters, addressed to Serafica and Beltran, read.
A copy of the letters was released by the Office of the Press Secretary.
Their resignation came in the wake of the unauthorized signing of Sugar Order 4, a resolution allowing the importation of 300,000 metric tons of sugar.
In his Aug. 14 resignation letter addressed to Rodriguez, Beltran said his move was "without prejudice to any investigation."
Last week, Agriculture chief of staff and Undersecretary for Operations Leocadio Sebastian also tendered his resignation to Marcos, who also sits as head of the Department of Agriculture, following the sugar importation fiasco.
"I sincerely offer my apologies, your Excellency, for having approved Sugar Order No. 4 on your behalf, and through the authority, you had vested upon me. It has become clear that the same was not in keeping with your administration's desired direction for the sugar industry," Sebasian said in his letter.
Malacañang earlier said the issuance of SO 4 was "illegal and unauthorized," as it was rejected by the President, considering the administration's thrust to fulfill a "balancing act" of securing affordable and adequate supply for the consumers, as well as benefiting the local producers. (PNA)