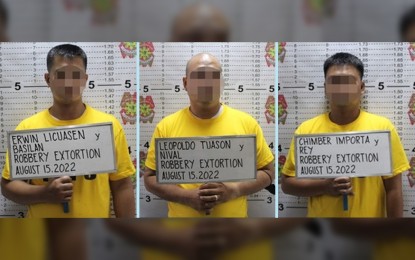 MANILA – Members of the anti-scalawag unit of the Philippine National Police (PNP) on Monday arrested three Manila policemen who allegedly tried to extort PHP2,000 from a driver whose tricycle was earlier impounded by the group.
In a statement Tuesday, Brig. Gen. Warren De Leon, chief of the PNP-Integrity Monitoring and Enforcement Group (IMEG), identified the suspects as Staff Sgt. Erwin Licuasen, 34; Cpl. Chimber Importa, 33; and Pat. Leopoldo Tuason, 39.
They were arrested at around 10:45 p.m. inside the Paco Police Community Precinct (PCP) located at the corner of Pedro Gil and Angel Linao Sts. in Paco, Manila.
De Leon said the operation stemmed from the complaint of tricycle operator Frederick Alba, 34, of Sampaloc, Manila who said the driver of his tricycle was apprehended for a traffic violation on Aug. 14.
He said the suspects demanded PHP2,000 in exchange for the release of the tricycle which was impounded.
The suspects were arrested after receiving the PHP2,000 marked money from the complainant during the entrapment.
Recovered from the suspects were the marked money, three mobile phones, a blotter book, six pieces of magazines with ammunition, and a motorcycle with an orange sidecar. Their service firearms were also confiscated.
The suspects are now under the custody of the IMEG headquarters in Camp Crame, Quezon City for proper documentation before inquest proceedings.
Probe underway
PNP chief Gen. Rodolfo Azurin Jr., meanwhile, has ordered the force's Internal Affairs Service (IAS) to conduct its own investigation on the allegations against the three suspects.
"As a matter of standard procedure, I am directing our IAS to probe the alleged extortion involving our personnel. We don't tolerate rogue cops in our organization, so we will let them answer the allegation," Azurin said in a statement.
He added that pieces of evidence are now being prepared for the filing of charges against the suspects before the prosecutor's office. (PNA)