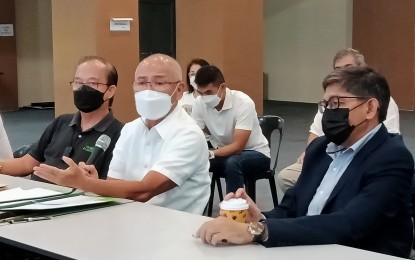 BACOLOD CITY – Negrense sugar leader Aurelio Gerardo Valderrama Jr. said on Tuesday he leaves his fate to President Ferdinand Marcos Jr. after he remained as the only appointed member of the Sugar Regulatory Administration (SRA) Board in the wake of the resignation of three others, among them Administrator Hermenegildo Serafica.
In a press conference held at the Negros Residences here, Valderrama, the acting board member representing the planters, said he has sent a letter to Marcos on Monday explaining what happened regarding the Sugar Order (SO) No. 4 and also for the President to decide whether he should stay in his post.
"At the end of the letter, it says 'If you feel I need to resign and I have lost your trust and confidence,' you can just tell me anytime. It was the President himself who appointed me here. I leave the decision to him," he said.
On Tuesday, Press Secretary Trixie Cruz-Angeles said the Office of the President already accepted the resignation of Serafica and Board Member Roland Beltran, the millers' representative.
Last week, the Department of Agriculture chief of staff and Undersecretary for Operations Leocadio Sebastian also tendered his resignation.
Along with the three others, Valderrama was a signatory of the SO4, the supposed resolution for the importation of 300,000 metric tons of additional sugar, which Malacañang had earlier called "illegal and unauthorized".
Valderrama, who was appointed as SRA board member only on Aug. 6, said he was the last one to sign the resolution as he exerted every possible effort to ensure propriety before affixing his signature.
"Ensuring that everything was in order, I signed SO4. After Atty. Beltran and Administrator Serafica signed the order, it was submitted to Usec Sebastian for appropriate action. Usec Sebastian then signed it for and in behalf of the SRA chairman, President Marcos Jr., I did not know this, nor could have questioned that act, knowing that Usec Sebastian was the chairman's authorized alternate," he added.
Valderrama added that when appropriate solutions are put in place and a fair investigation is concluded, "I, as a member of the Sugar Board place myself at the disposal of the President, knowing I served with integrity and hoping that the truth will prevail above all else, in the interest of our stakeholders." (PNA)