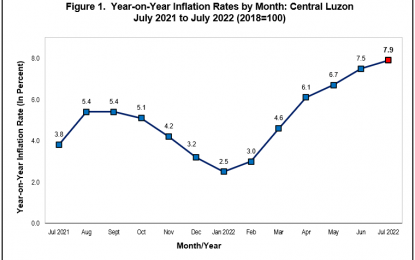 CITY OF SAN FERNANDO, Pampanga – The inflation rate in Central Luzon climbed to 7.9 percent in July 2022, the highest annual rate recorded in the region since January 2018, the Philippine Statistics Authority-Regional Statistical Services Office (PSA-RSSO) reported on Tuesday.
The latest figure was higher by 4.1 percentage points from 3.8 percent in July 2021 and 0.4 percentage points higher from 7.5 percent in June 2022.
Central Luzon ranked third among regions with the highest inflation while Davao Region ranked first at 8.6 percent followed by Zamboanga Peninsula at 8.3 percent.
On the other hand, the Bangsamoro Autonomous Region in Muslim Mindanao remained to have the lowest inflation at 3.6 percent followed by the National Capital Region at 5.1 percent.
The annual inflation rate in the country continued to inch up and was recorded at 6.4 percent in July 2022 compared to 6.1 percent in the previous month.
In her report, PSA-RSSO III officer-in-charge Arlene Divino said the uptrend in inflation for July 2022 was primarily brought about by the higher annual growth rate in the index of food and non-alcoholic beverages at 7.3 percent from 6.7 percent.
This was followed by housing, water, electricity, gas, and other fuels at 10.5 percent and the index of transport at 19.3 percent.
Likewise, higher annual increments were noted in alcoholic beverages and tobacco at 11.2 percent; clothing and footwear at 3.1 percent; furnishings, household equipment, and routine household maintenance at 2.9 percent; health at 2.6 percent; recreation, sports, and culture at 3.2 percent; restaurant and accommodation services at 3.1 percent and personal care, and miscellaneous goods and services at 3.9 percent.
Meanwhile, a slower rate of increase was registered in the indices of rice at 3.1 percent and vegetables, tubers, plantains, cooking bananas and pulses at 8.6 percent.
On the other hand, the same rate of increase as that of the previous month was observed in the indices of education services at 0.1 percent and financial services at 0.0 percent.
The annual growth rate in the regional food index registered an increment of 7.7 percent in July 2022 from 7.1 percent in June 2022.
The continued upward trend in the food index can be primarily attributed to the increases in the annual growth rate of the following food indices: sugar, confectionery, and desserts at 17.4 percent; corn at 12.3 percent; and fish and other seafood at 10.8 percent.
Meanwhile, Gina T. Gacusan, regional director of the National Economic and Development Authority-Central Luzon, earlier said that in order to preserve the purchasing power of the households, there is a need to control the inflation in food items as food takes the largest share in the expenditures of households.
Gacusan said policy interventions are being implemented to manage the supply and prices of basic commodities. (PNA)