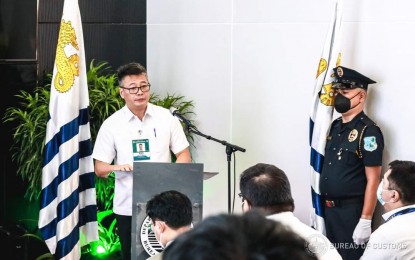 MANILA – The Bureau of Customs (BOC) has started releasing balikbayan boxes of overseas Filipino workers (OFWs) inside container vans abandoned by two private companies.
Customs Commissioner Yogi Filemon Ruiz said Tuesday the bureau has initially released seven balikbayan boxes that arrived from the Middle East and are consigned to CMG International Movers after an inspection by the Door-to-Door Consolidators Association of the Philippines (DDCAP) last month.
"The BOC initiated this move to help our OFWs," he said in a statement.
The delivery of the balikbayan boxes is expected to be completed by the end of August.
Ruiz said an additional 27 containers of abandoned balikbayan boxes will be auctioned off to the DDCAP and sent to the consignees.
The BOC also identified the other firms as Cargo Services and Cargoflex Haulers Corporation.
Ruiz approved the release after a meeting with the DDCAP on Aug. 12, where they discussed measures on how to fast-track the release and delivery of the boxes.
The BOC chief is also looking to create a Balikbayan Box Assistance Unit that will monitor the expeditious release and delivery of the OFW boxes.
Once formed, it will also serve as the primary communications center of the consignees.
Meanwhile, the BOC's Public Information and Assistance Division said Ruiz is currently in isolation after testing positive for coronavirus.
"He is in quarantine but continues to work on urgent matters concerning the Bureau of Customs," it said in a statement. (PNA)