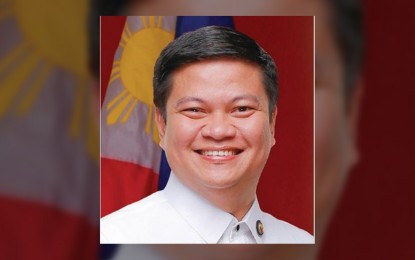 MANILA – The House of Representatives, under the leadership of Speaker Martin Romualdez, has been forging tighter coordination with Malacañang and the Senate to prevent even a single presidential veto of bills to be approved by the 19th Congress, House leaders said on Tuesday.
In a press conference, House Majority Leader Manuel Jose Dalipe said the closer coordination would smoothen the process and guarantee better linkages, synergy, and coordination to fast-track, facilitate, and harmonize the passage of vital measures, including the priority legislation of President Ferdinand Marcos Jr.
"We are closely coordinating with Malacañang and the Senate so that we can avoid vetoing of a measure, which is a waste of time and resources. Under the leadership of Speaker Martin, we are working with our counterparts to ensure the smooth passage of important bills," Dalipe said. "We will be able to achieve more for the legislative agenda."
Marikina City Rep. Stella Luz Quimbo, senior vice chairman of the House Committee on Appropriations, said she attended the first Legislative-Executive Development Advisory Council (LEDAC) - Technical Working Group (TWG) last Thursday to expedite the approval of the President's priority bills and ensure that government resources would not be put to waste.
"The Speaker said it is very important at this point in time, of course, to have not only effective legislation but cost-effective legislation. In other words, we don't want any veto because a vetoed bill is expensive. The Speaker said let us use the LEDAC as a platform to ensure that our legislation (will be approved with dispatch)," Quimbo said.
She said during the LEDAC-TWG meeting, it was highlighted that eight of the 19 legislative priority measures of Marcos were approved on the third and final reading by the 18th Congress.
These measures, she said, are eligible for swift approval under House Rule 10, Section 48, which would greatly hasten consideration and endorsement by any committee of any covered bill, and its eventual plenary approval.
House Assistant Majority Leader and PBA Party-list Rep. Margarita Nograles said the supermajority in the House has been very supportive of Romualdez's plan for a zero veto of bills to ensure that government resources are spent wisely and prudently.
She assured that well-crafted legislative measures would be passed by the House where Cabinet members and other stakeholders would be given a chance to be heard.
The 19 priority measures enumerated by Marcos in his State of the Nation Address were the Valuation Reform Bill, Passive Income and Financial Intermediary Taxation Act (PIFITA), E-Governance Act, Internet Transaction Act, GUIDE bill, Medical Reserve Corps bill, National Disease Prevention Management Authority bill, Virology Institute of the Philippines bill, Unified System of Separation, Retirement and Pension bill, Department of Water Resources bill,
E-Governance Act, National Land Use Act, Mandatory Reserve Officers' Training Corps (ROTC) and National Service Training Program, Budget Modernization bill, National Government Rightsizing Program, National Defense Act, Enactment of an Enabling Law for the Natural Gas Industry, Amendments to the Electric Power Industry Reform Act, and Amendments to the Build-Operate-Transfer Law.
The eight measures approved by the 18th Congress were the Valuation Reform Bill, PIFITA, E-Governance Act, Internet Transaction Act, GUIDE, Medical Reserve Corps, National Disease Prevention Management Authority, and Virology Institute of the Philippines. (PNA)