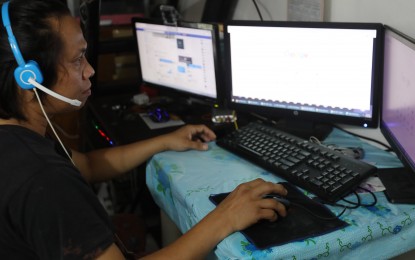 MANILA – Senator Grace Poe on Tuesday asked her colleagues to support her filed Senate Resolution No. (SRN) 125 which urges a review of Republic Act No. 11165 or the Telecommuting Act, to promote work from home (WFH) and hybrid arrangements.
In her privilege speech, Poe shared her observation at the height of the Covid-19 pandemic when employers were forced to implement different working arrangements.
"Some require a set number of days per week. Others provide a quota of days per year that an employee may spend working remotely. Some companies still allocate cubicles to which employees must routinely report. Other offices are only used for collaboration and coordination," she said.
Poe, chair of the Committee on Public Services, pointed out that flexibility is the common theme of these working arrangements.
"Within contractual limits, employees are given relative freedom to allocate their time and space on their own terms. Hybrid work is not a radical, futuristic idea whose time is yet to come. It is an old friend knocking on our door once again," she said.
Poe cited the country's fixed broadband speed in 2018 which was 17.32 megabits per second, falling behind Vietnam, Malaysia, and Thailand.
"Our mobile download speed was second to the last in the Asean. Because of these limitations, hindi pa rin plug and play ang work from home sa ating ekonomiya (work from home is still not plug and play in our economy)," Poe said.
Hybrid work, she said, is a big relief to the health and pockets of Filipino commuters.
"In the past year, the average citizen of Mega Manila spent a total of 188 hours stuck in traffic -- probably longer when monsoon season turns our highways into floodways," she said.
A random employee may spend a total of PHP56,000 for commuting expenses, excluding the cost of food and cellular data, she said.
"In contrast, the-work-from-home employee saved four hours daily. In the context of a five-day workweek, that's a total of 20 hours or almost an entire day," she said.
Poe said a recent study showed a Filipino employee saved around PHP340,000 in hybrid work setup during the pandemic.
The WFH setup also paid dividends in terms of physical (74.2 percent), emotional (35.7 percent), and mental (27.8 percent) health, according to studies.
She said six out of 10 Filipino respondents want to retain some form of hybrid work that will improve their productivity and health, reduce expenses, and make them more competitive. (PNA)