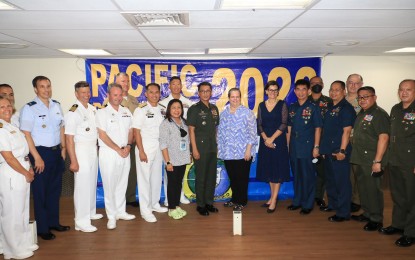 MANILA – The Puerto-Princesa City, Palawan-based Western Command (Wescom) on Wednesday said the recently-concluded "Pacific Partnership" 2022 (PP22) has greatly boosted the interoperability of the two nations' militaries in terms of disaster response.
"It has not only strengthened partnerships through the exchange of expertise, as well as such as civil-military exchanges, but it also has prepared our nations for interoperability in extending humanitarian assistance and disaster response," Wescom chief Vice Adm. Alberto Carlos said in a statement.
He also emphasized the significance of the PP22 programs in Wescom's joint operations area.
"At such a time as this, the Pacific Partnership 2022 contingent from both countries have displayed the beauty of collaboration and interoperability in extending the required humanitarian assistance and response when and where it is needed," Carlos added.
This year's PP22 started in Puerto Princesa City last July 27 and formally concluded on Tuesday aboard the hospital ship, the USNS Mercy (T-AH-19).
Armed Forces of the Philippines (AFP) chief Lt. Gen. Bartolome Vicente Bacarro, who was present during the closing rites along with Carlos and Puerto Princesa Vice Mayor Nancy Socrates, thanked the US for extending humanitarian assistance to the Filipinos, particularly the Palaweños who had also been adversely affected by natural disasters in the past months.
"Through the Pacific Partnership, we have seen how the PH-US bilateral capability on HADR has grown and developed," Bacarro said.
The AFP chief also commended the PP22 bilateral teams who provided immediate response to a vehicular accident in Barangay San Rafael in Puerto Princesa City last week.
Meanwhile, US Navy Task Force 73 commander Rear Admiral Mark Melson said the cooperation and friendship with the Philippines continue to grow through each mission and activity of the Pacific Partnership program.
"This strengthens our ability to work together, especially in a situation of need, such as a natural disaster or any other situation requiring humanitarian assistance," Rear Admiral Melson said.
The Pacific Partnership is an annual program sponsored by US Indo-Pacific Command (INDOPACOM) and executed by Pacific Fleet (PACFLT) in coordination with partner nations.
It has evolved over time from one focused on direct assistance to disadvantaged populations to one that looks to further regional resiliency, interoperability, and security through subject matter expert exchanges, multilateral engineering and health engagements, and cooperation over a broad spectrum of tailorable objectives specific to the desires of each partner, including environmental security, and maritime security.
The PP22 in Puerto Princesa City served about 7,000 patients and beneficiaries through the conduct of health fairs, health education, dental, optometry, radiology services, surgical care, and veterinary assistance.
Partner nations also conducted activities to strengthen community relations such as tree planting, puppet shows, book reading, sports, Brigada Eskwela, mall tours, and band performances.
Participants benefited from various training such as mountain search-and-rescue, collapsed structure search-and-rescue, health worker education, humanitarian supply chain management, incident command system, and camp coordination and management.
Selected barangays have become recipients of renovated facilities and other engineering projects. (PNA)