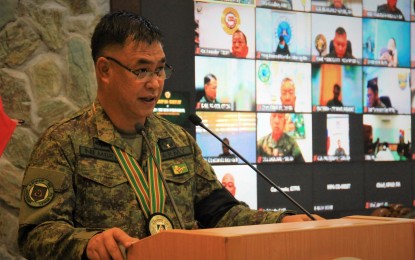 MANILA – Maj. Gen. Jose Eriel Niembra formally assumed on Tuesday as the Inspector General of the Philippine Army, the unit tasked to provide complete oversight for the 110,000-strong force.
In a statement Wednesday, PA spokesperson Col. Xerxes Trinidad said the change-of-chief office ceremony took place at Army headquarters in Fort Bonifacio, Taguig City, and was presided by Army vice commander, Maj. Gen. Camilo Z. Ligayo, who represented Army chief, Lt. Gen. Romeo S. Brawner Jr.
"Maj. Gen. Niembra, who led the Intelligence Service of the Armed Forces of the Philippines for more than two years, assumed the post from outgoing acting Inspector General Col. Nazarito A. Floresa II," Trinidad said.
Trinidad said the Office of the Inspector General (OTIG) plays a key role in facilitating the accomplishment of the organization's mission, operational readiness, security preparedness, morale and welfare of personnel, proper utilization of mission-essential resources, and ensuring institutional integrity.
Niembra served as Presidential Security Group (PSG) deputy commander and eventually as PSG commander from April 2018 to January 2020.
He likewise held key posts such as deputy commander of the Task Force Davao of the 10th Infantry Division; executive officer of the 401st Infantry Brigade, 4th Infantry Division (4ID); battalion commander of the 58th Infantry Battalion, 4ID; and brigade commander of the 701st Infantry Brigade, 7th Infantry Division.
Niembra is a member of the Philippine Military Academy Class of 1991 and holds a Master's degree in Public Management from the Development Academy of the Philippines.
"As you set out to fulfill your new role, I enjoin you to sustain the winning momentum of Team OTIG. Be assured that the Headquarters Philippine Army will continue to provide your office with the necessary support and mission-essential resources to further propel our organization in attaining operational and organizational feats," Ligayo said in a speech on Brawner's behalf. (PNA)