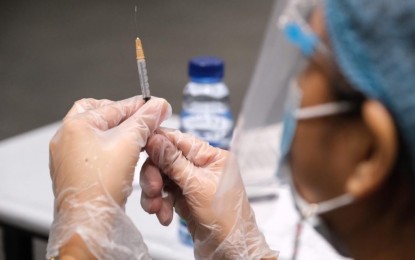 MANILA – President Ferdinand "Bongbong" Marcos Jr. on Wednesday said he is assessing the need to purchase new types of coronavirus disease 2019 (Covid-19) vaccines against Omicron coronavirus subvariants.
Marcos made the statement, as he acknowledged that the presence of Omicron subvariants remains a problem that needs to be addressed.
During the "PinasLakas" vaccine campaign at SM City Manila, Marcos said Department of Health (DOH) Officer-in-Charge (OIC) Undersecretary Maria Rosario Vergeire had told him about the new types of Covid-19 vaccines against Omicron.
"Now, I was just told by Usec. Vergerie, mukha namang merong ilalabas na vaccine para dito sa mga bagong variant ng Omicron. Kaya't pagaaralan natin (that there will be a new vaccine to fight the new variants of Omicron. That's why we will study) and [see] if it's going to be helpful," Marcos said.
Marcos said his administration would exhaust all efforts to keep Filipinos safe from Covid-19.
"Gagawin natin ang lahat para madala dito sa Pilipinas para mabigay natin sa lahat ng kailangang magkaroon ng booster shot (We will do everything to bring to the Philippines all that we need, and we will give that to everyone who needs booster shot)," he said.
On Tuesday, Vergeire said the DOH has already set aside funds for the possible procurement of new vaccines which are believed to be more effective in fighting more transmissible coronavirus variants like Omicron.
This, as Vergeire said the new vaccines can "specifically address these mutations [of Covid-19]" and "will be more effective than the current vaccines that we have."
The US Centers for Disease Control (CDC) and Prevention, in a notice posted on its website on Tuesday, has placed the Philippines under the high-risk category for Covid-19.
The CDC also warned travelers with a weak immune system or at increased risk for the severe disease to "consider delaying travel to the Philippines."
Marcos said receiving a booster shot is important to keep everyone "fully immunized" against Covid-19 and its subvariants, including Omicron.
"So, that is why it is very important and it's very clear the benefits of having a booster shot now to combat the problem with the new variants of Omicron," he said.
Data from the Department of Health showed that as of Aug. 14, over 16.9 million individuals have received their first booster dose, while 1.7 million have been administered with second booster shot.
To ramp up the nationwide Covid-19 booster vaccine drive, the DOH launched on July 26 the "PinasLakas" campaign to encourage more Filipinos to receive a booster shot to help maintain the country's wall of immunity against Covid-19.
To date, there are over 18,900 PinasLakas vaccination sites all throughout the country, including areas like markets, schools, workplaces, terminals, and plazas.
SM SuperMalls and the DOH have partnered since the start of the covid-19 vaccination campaign. Their malls have served as vaccination sites, as well as venues for vaccination advocacies and launches.
The PinasLakas campaign initiated by the Marcos administration is seen to boost the country's vaccine programs and create a "more health-conscious and safer" nation, the DOH said.
The government intends to fully vaccinate 90 percent of the A2 or senior citizen population, as well as raise booster dose coverage to 50 percent of the total target population before Oct. 8, 2022, which marks the first 100 days of the Marcos administration. (PNA)