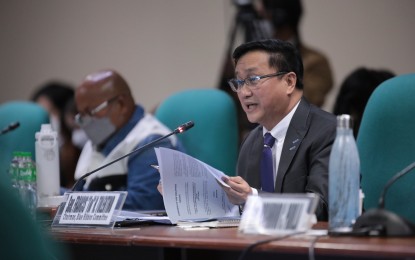 MANILA – The Senate Blue Ribbon Committee, chaired by Senator Francis Tolentino, announced on Wednesday that two former officials of the Office of the Ombudsman would join the panel in investigating alleged anomalies in the government and its officials.
Tolentino said former deputy ombudsman Melchor Carandang would sit as his senior legal consultant while former deputy ombudsman for Luzon Gerard Mosquera, who just flew in from General Santos City, would sit as the committee's general counsel.
"That would probably show the seriousness of this committee in tackling the resolutions ahead," he said.
During the committee's organizational meeting, the lawmaker emphasized that the Senate Blue Ribbon would not go with a "guilt beyond reasonable doubt" standard, which is the job of the prosecutors and the courts.
"Our job is to satisfy ourselves to have an inner conviction – that moral certitude – that a person appearing before this committee has committed a wrongdoing, which would necessitate the filing (of) the appropriate charges before competent authorities, notably the Ombudsman, and the next stage would probably be the Sandiganbayan," Tolentino said.
He also vowed that the committee would not do any "witch huntings" or "fishing expeditions."
"We will be here in the succeeding hearings to gather and uncover the truth. Kahit sino po ang masaktan (Whomever's feelings will be hurt), we will do what is right," Tolentino said.
He also appealed to the committee members to be forthright in joining him to have a Blue Ribbon roadmap.
"The Blue Ribbon roadmap would entail that we will have for purposes of hearings a known duration and a defined direction. We will not evolve into a political circus. We will not go into unending hearings. We will respect the rights of the witnesses. We will respect the rights of the resource persons," he said, reminding the committee members that they have a constitutional duty to prevent abuses and to pass the proper remedial legislation with a known standard of proof.
One of the old rules that the committee amended was the separation of the Detention Order and the Commitment Order.
Tolentino explained that the Detention Order involves a witness who would be cited in contempt to be confined within the premises of the Office of the Sergeant at Arms (OSAA), as ordered by the chairperson, with the concurrence of at least one member of the committee.
Meanwhile, the Commitment Order will be imposed upon a witness who refuses to produce documents required of him or her, or to be sworn to or to testify; or who maliciously evades or misleads the committee, or purged himself or herself of contempt.
The witness may be ordered to be confined outside the premises of the Senate, either at the Pasay City Jail or even at the Bilibid Prison upon the recommendation of the committee through the chairperson with the concurrence of the Senate President.
The order may be lifted by the chairperson, with the concurrence of the Senate President.
The Senate Blue-Ribbon Committee is scheduled to tackle the issue of the Sugar Regulatory Administration's Order 4 on August 23 and issues surrounding the laptops purchased by the Department of Budget and Management's Procurement Service on August 25. (PNA)