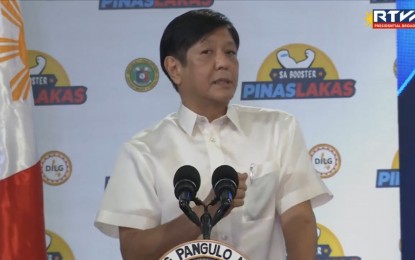 MANILA – President Ferdinand "Bongbong" Marcos Jr. on Wednesday said he is considering extending the validity of the state of public health emergency amid the coronavirus disease 2019 (Covid-19) pandemic.
In a media interview during the "PinasLakas" vaccine campaign at SM City Manila, Marcos said he is already discussing with Department of Health (DOH) Officer-in-Charge (OIC) Undersecretary Maria Rosario Vergeire the possible extension of the state of public health emergency "until the end of the year."
"Yes, we were just discussing it with Usec. Vergeire," Marcos said.
Marcos said there was also a plan to amend the law on government procurement "in the middle of an emergency."
He was referring to Republic Act (RA) 11525 or the act expediting the vaccine procurement and administration process.
On Tuesday, Vergeire said the DOH is recommending amending the provisions of RA 11525, in case the state of calamity declaration due to the Covid-19 pandemic is not extended.
Vergeire noted that apart from the national Covid-19 vaccination drive, there are other protocols linked with the declaration of state of calamity, including the emergency use authority for coronavirus jabs, emergency procurement of vaccines, tax exemptions for vaccine manufacturers and donors, price caps on medicines used for Covid-19 treatment, and additional benefits of healthcare workers.
It was on March 16, 2020 when former President Rodrigo Duterte first declared a state of calamity all throughout the country for six months because of the threat posed by the Covid-19.
On Sept. 2020, Duterte extended the state of calamity for another year, or until Sept. 12, 2021 through Proclamation 1021.
Duterte, by virtue of Proclamation 1218, again extended the state of calamity throughout the country for one year from Sept. 13, 2021 to Sept. 12, 2022.
Proclamation 1218 states that the extension will allow the national government, as well as local governments, to continue the implementation of Covid-19 vaccination program, augment pandemic response funds, monitor and control prices of basic necessities and prime commodities, and provide basic services to the affected populations. (PNA)