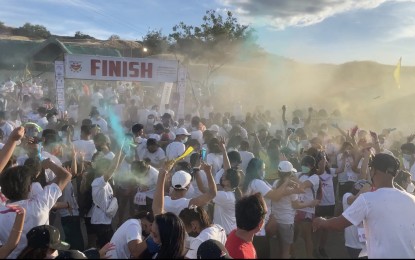 LAOAG CITY – The Ilocos Norte provincial government has ordered event organizers to refrain from holding events on major thoroughfares during rush hour to avoid traffic congestion here.
Through Executive Order 198-22 signed on August 17, Governor Matthew Joseph Manotoc identified the activities as funerals, interments, religious processions, and other similar events including marches, runs or walks for a cause, motorcades, rallies, and similar activities that may cause heavy traffic on main roads.
The rush hour referred to is from 7:30 a.m. to 9 a.m. and from 4:30 p.m. to 6 p.m. on weekdays, except on Saturdays, Sundays, and non-working holidays.
"The use of secondary roads or alternate routes is hereby encouraged for the aforementioned activities so long as it does not cause traffic congestion," the governor said in his order which took effect immediately.
As soon as the governor's EO was posted on his official Facebook page, many netizens thanked the governor for his initiative, saying traffic congestion has been a perennial problem in the city, particularly along Rizal St. where traffic builds up whenever a funeral procession passes by.
"This should have been implemented a long time ago. There were so many instances that I was late going to school and work because of funeral rites during rush hour," netizen Rome Angelo Rafol from San Nicolas town said.
Some netizens also appealed to Manotoc to stop closing down roads in front of the Capitol for the Sunday market as it causes inconvenience among motorists who are forced to take alternate routes.
They suggested that the Sunday open market be moved in front of the the Laoag City Centennial Arena instead. (PNA)