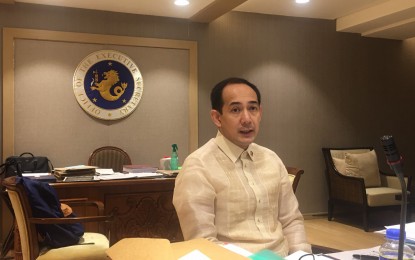 MANILA – The Office of the Executive Secretary (OES) is investigating the supposed efforts to use the fraudulent order to import 300,000 metric tons (MT) of sugar as "cover" for hoarding of some sugar traders.
Executive Secretary Victor Rodriguez made the revelation in an interview with Rigoberto Tiglao, columnist of The Manila Times, on Tuesday.
Rodriguez, in a telephone interview with Tiglao, said his office is looking into reports that the unlawful importation order was "being pushed aggressively" by certain traders who want to release the sugar they had hoarded.
He explained that the unnamed sugar traders could not release the sugar because "this would depress prices."
A signed copy of Sugar Order (SO) 4 dated Aug. 9 was uploaded on the official website of the Sugar Regulatory Administration (SRA).
Rodriguez said he had instructed the SRA to take down the posting of SO 4 because it was not signed and approved by President Ferdinand "Bongbong" Marcos Jr., head of the Department of Agriculture (DA) and chairperson of SRA Board.
He also denied giving DA Undersecretary Leocadio Sebastian an authority to sign contracts, including sugar orders, on behalf of the President.
"No, we even sent him a list of his 'authorities' that didn't include signing for the President as his representative in the SRA," Rodriguez said, clarifying that Sebastian can only represent Marcos in meetings but has no authority to "sign for the President" in any major decision of the sugar body.
Rodriguez also lamented that there was no advisory sent to Marcos and him about the Sugar Regulatory Board's meeting for the approval of SO 4.
"We found out about it only when my staff reported that the SRA posted the order on its website," he said. "I thought that this was clear for Sebastian when he officially asked the President through my office for 'guidance' on an issue that was less important than the importation of 300,000 MT of sugar."
Rodriguez was referring to Sebastian's July 29 memorandum asking for Marcos' "guidance" on the reclassification of imported sugar from "C" or Reserve Sugar to "B" or Domestic Sugar.
Under the memorandum, Sebastian said the total volume of sugar for reclassification totaled to 62,826.60 MT of sugar. This was part of the 200,000 MT importation authorized by SO 3.
"His request was made July 29, and we haven't acted on it, so the SRA hasn't released those sugar stocks," Rodriguez said.
Rodriguez maintained that Sebastian had convened the meeting with SRA board sans Marcos' approval.
"As late as August 7, there was no clearance to do what they did. Sebastian knows from several instances in the past that when he asked for clearance for some decision from the President, and if I don't reply on his request, it means the President hasn't decided yet," he said.
Quizzed if Sebastian met with him after the revocation of SO 4, Rodriguez told Tiglao in a text message: "He did on the day we learned of their passage of SO 4. All he did was to say 'Akala ko ho kasi ay okey na (I thought it was all right).'"
Sebastian resigned on Aug. 11 following the sugar importation mess.
The controversial signing of SO 4 also prompted SRA Administrator Hermenegildo Serafica and board member Roland Beltran to stepped down.
Malacañang earlier defended Rodriguez, saying the Executive Secretary has nothing to do with the issuance of SO 4.
Rodriguez merely ordered the crafting of an importation plan, Press Secretary Trixie Cruz-Angeles said.
Rodriguez said there was no "factual basis" yet to accept the proposal to import 300,000 MT of sugar.
"We have yet to establish the factual basis for importing the needed quantity of sugar to promote the interest of the industrial users vis-à-vis the interest of the local producers and the stability of prices and supply for domestic/home consumption. Nandun pa lang kami sa stage na 'yun (We're still at that stage) when they passed that Sugar Order No. 4 without clearance from the acting secretary, PBBM," he said. (PNA)