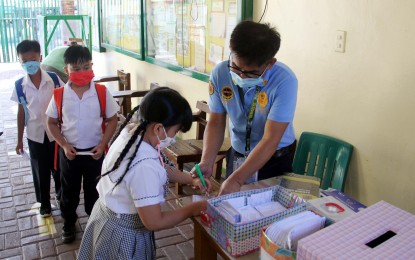 MALASIQUI, Pangasinan – The Department of Education (DepEd) has recorded 936,406 enrollees in the Ilocos region for the new school year as of August 12.
In an interview on Wednesday, DepEd 1 (Ilocos) Public Affairs Unit head Cesar Bucsit said of the total, 55,736 were enrolled in kindergarten, 405,515 in elementary, 314,139 in junior high, and 161,016 in senior high school.
The figure is expected to increase as enrollment is ongoing, he said.
Bucsit said the projected enrollees for School Year 2022-2023 in the region are at 1.3 million.
Darius Nieto, project development officer of DepEd-1, in a virtual forum on Tuesday, said 96 percent of the enrolled learners have already received their first dose of coronavirus disease 2019 vaccine, while 93 percent have been fully vaccinated.
However, only 8 percent have received their booster shot, he said.
The DepEd-1, along with the Department of Health - Center for Health Development - Ilocos, has been conducting immunization drives in schools with various initiatives to increase the number of learners with booster shots.
Meanwhile, DepEd-1 office education program supervisor Johnson Sunga said the opening of classes this month is still a combination of face-to-face (F2F) and distance learning modalities, or full modality.
"They may opt for the full five-day F2F classes or the blended modality wherein they may choose three to four days F2F and one distance learning, or the full distance learning modality," he said.
He added that this is a transition from the pandemic to the new normal setting in education that comes on November 2.
"We are going to return the usual time allotment per subject and classroom activities like the natural setting because we have seen that the implementation of distance learning, particularly the modular distance learning based on our assessment, has resulted in learning losses," Sunga said.
He said distance learning and other modalities are not enough for the learners to master their competencies.
"Hence, the resumption of F2F classes in order to address the learning losses and gaps," he said, attributing learning loss to the missed lessons as students were unable to attend classes in person.
Sunga said this school year would focus on academic activities while other activities that might disturb the learners would be limited if not removed. (PNA)