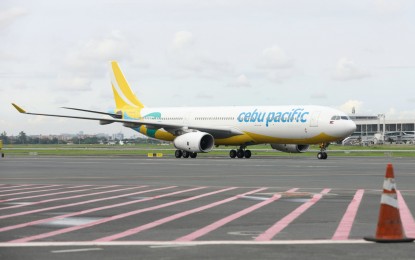 MANILA – Low-cost carrier Cebu Pacific (CEB) announced Wednesday its plan to mount daily flights between Cebu and Seoul, South Korea beginning Sept. 9, from the current twice weekly.
The move aims to ramp up the direct flights via Incheon for passengers coming from the Visayas and Mindanao.
CEB has reopened the Cebu-Incheon route on July 3, with flights every Thursday and Sunday.
"This ramp-up just two months after the route (resumption) is a testament to our commitment to everyJuan and reflects the travel demand amongst Filipinos and foreigners," said CEB spokesperson Carmina Romero.
The goal is to mount daily flights, but this will be dependent on fluid situations such as if there would be lockdowns either in the Philippines or South Korea, Romero told the Philippine News Agency.
If the plan would push through, CEB's daily flights will leave the Mactan Cebu International Airport at 12:25 p.m., arriving Incheon at 6:10 p.m. (South Korea local time).
Flights from Incheon International Airport will leave at 6:55 p.m., arriving Cebu at 10:50 p.m. (local time).
Fully vaccinated individuals heading to South Korea need a negative coronavirus disease 2019 test result taken within 48 hours before flight; a valid vaccination certificate, and a filled-out foreigner registration card. (PNA)