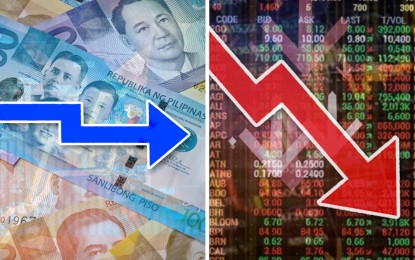 MANILA – Bargain hunting ended in the local bourse, resulting in the negative close of the main equities index on Wednesday, but the peso kept its footing against the US dollar.
After several days of rally, the Philippine Stock Exchange index (PSEi) shed by 0.46 percent, or 31.65 points, to 6,818.99 points.
All Shares followed with a drop of 0.14 percent, or 5.2 points, to 3,619.88 points.
Most of the sectoral gauges also finished the day in the negative territory, led by Industrial, which fell 0.88 percent.
It was trailed by Property, 0.78 percent; Services, 0.73 percent, and Financials, 0.70 percent.
On the other hand, Mining and Oil rose by 1.32 percent and Holding Firms by 0.43 percent.
Volume reached 1.17 billion shares amounting to PHP8.04 billion.
Advancers led decliners at 117 to 94, while 34 shares were unchanged.
"Philippine shares finally succumbed to profit taking after successive sessions of bargain hunting, and ahead of the release of the July retail sales data," said Luis Limlingan, Regina Capital Development Corporation (RCDC) head of sales.
He said the retail sales data "is being used by investors to gauge how consumers are managing the impact of rising inflation and oil prices."
Limlingan said oil prices again fell in the international market after a volatile trading "as economic data spurred concerns about a potential global recession while the market awaited clarity on talks to revive a deal that could allow more Iranian oil exports."
He said Brent crude futures slipped by 2.9 percent to USD92.34 per barrel and the West Texas Intermediate (WTI) by 3.2 percent to USD86.53 per barrel.
On the other hand, the local currency finished the day at 55.86, little changed from its 55.83 close a day ago.
It opened the day at 55.83, an improvement from its 55.95 start in the previous session.
It traded between 55.91 and 55.7, resulting in an average of 55.826.
Volume declined to USD918.65 million from the previous session's USD1.02 billion. (PNA)