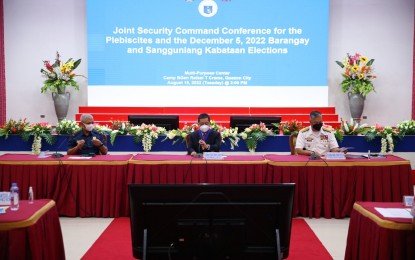 MANILA – The Commission on Elections (Comelec) appealed for the support of relevant government bodies for the conduct of electoral exercises in the country this year.
During the joint security command conference in Camp Crame in Quezon City on Tuesday, Comelec chairperson George Erwin Garcia sought anew the cooperation of the Philippine National Police (PNP), Armed Forces of the Philippines (AFP), Department of Energy (DOE), and the Department of Education (DepEd) as the poll body prepares for these activities.
"I have a request to all of you, I hope, what we have already shown loyalty and service in the May 2022 elections, I hope we can show it again for the upcoming plebiscites. I hope we will be able to maintain peace, and those who want to sow fear among our electorate, I hope they will not be able to carry out their plans," Garcia said.
Garcia appealed to the DOE to ensure a stable power supply for the holding of plebiscites and the Dec. 5 Barangay and Sangguniang Kabataan Elections (BSKE).
At the same time, Garcia reiterated his promise to support the teachers' plea for higher honoraria while on election duty.
"To our teachers, we promise, the Comelec that we will do everything possible, even if you were not given tax exemption. We will make a way for those who will serve on that day will be given what is due to them. We will make sure that our teachers will be compensated," he said.
Aside from Garcia, other poll body officials who attended the conference are Commissioners Aimee Ferolino and Rey Bulay while the AFP and the PNP were represented by vice chief of staff Vice Adm. Rommel Anthony Reyes, and PNP chief Gen. Rodolfo Azurin Jr., respectively.
Four plebiscites will be held in the country starting this month -- the plebiscite to ratify the creation of Barangay New Canaan out of Barangay Pag-Asa in Alabel, Sarangani province on Aug. 20; the conversion of the municipality of Calaca in Batangas into a component city on Sept. 3; the division of the province of Maguindanao into two separate provinces of Maguindanao del Norte and Maguindanao del Sur on Sept. 17; and the merger of Barangay Districts 1 to 28 and the renaming of Barangay 29 in Ormoc City on Oct. 8.
Azurin, meanwhile, said the PNP shall sustain the gains and momentum in ushering the country towards honest, peaceful, and secure electoral exercises.
"The PNP has proven its mettle in ensuring the most peaceful, secured, accurate, and fair national and local elections and the past conducts of plebiscites. Our collective efforts likewise sustained the gains and momentum of ensuring safe and secure State of the Nation Address (SONA) of His Excellency Ferdinand Romualdez Marcos Jr.," said Azurin.
"This level of commitment and dedication is instrumental in our tireless pursuit of a reformed electoral process free from violence and corruption," he added.
On Tuesday, the House Committee on Suffrage and Electoral Reforms approved the resetting of the forthcoming village and youth polls to December 2023. (with report from Lloyd Caliwan/PNA)