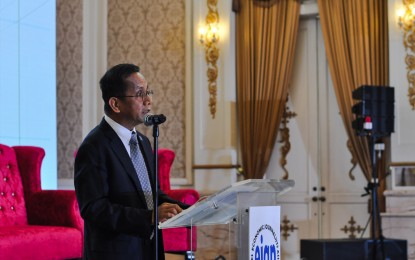 MANILA – Socioeconomic Planning Secretary Arsenio Balisacan said the government is finding ways to address the current issues in the local sugar industry.
On the sidelines of an economic forum organized by the Economic Journalists Association of the Philippines and the San Miguel Corp. on Wednesday at the Ayuntamiento de Manila, Balisacan said the biggest challenge for the country's sugar sector is the insufficient volume in the domestic market.
Balisacan said the cause of the rising sugar prices in the country is the insufficiency of the supply as the economy expands.
"There's an ongoing exercise right now because we are preparing some papers —some strategic paper(s) for addressing this kind of issue," he told reporters.
Balisacan, who is also the National Economic and Development Authority (NEDA) director general, said the government needs to sit down with sugar planters and industry players to have a "clear picture" of the gap on supply and demand of sugar.
"We need to see what the production potential of our sugar industry vis-à-vis the demand. Obviously, the demand for sugar is quite elastic, meaning it grows with the economy. So total requirements, total volume is likely to rise. So the question is: Can the production catch up with the demand?" he added.
Balisacan said stakeholders should look into the capability of sugar producers if they are still able to expand their farming land and if they are using high-yield plant varieties "to give confidence that productivity is going to rise" as farming land has not increased much because of other demands for land.
Asked if NEDA is in favor of sugar importation, Balisacan said it should be allowed if available local supply could not meet the demand.
"The thing is the supply has to grow, (the) available local production (has to grow). If it cannot grow, imports should be allowed. Otherwise, prices will continue to skyrocket," he said.
President Ferdinand "Bongbong" Marcos Jr. earlier said the country may import around 150,000 metric tons of sugar by October if the local supply is seen to be depleting. (PNA)