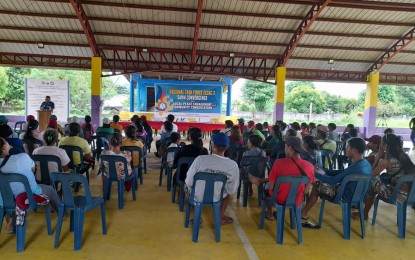 BALER, Aurora – A total of 67 former members of the Communist Party of the Philippines-New People's Army (CPP-NPA) in Dilasag town are set to receive livelihood assistance as part of the government's efforts to help them reintegrate into society, an official of the National Intelligence Coordinating Agency (NICA) said Wednesday.
This, after the Regional Task Force 3 held a convergence meeting and community consultation with government line agencies at the Barangay Manggitahan covered court in Dilasag.
"We bring our concerned agencies to our former rebels to make them feel that the government is here to help them sincerely. Our line agencies explained their programs for them to make sure that all are ready to answer what they need," Maria Luisa de Guzman, NICA regional director, said in an interview.
De Guzman said she asked the former rebels to organize as a group so that they can easily ask for assistance and scholarships from the concerned government agencies, such as the labor, trade, technical education, and social welfare departments.
She said in three to four months, "we can assure that everything will be alright just like on the other former rebels that organized themselves and now receiving government aid."
She also urged the remaining rebels and their supporters to surrender and go back to mainstream society.
During the event, the former rebels burned the communist flag as proof of their sincerity in returning to the government fold.
De Guzman thanked them as the residents for condemning the communist terrorist group and for helping them to attain inclusive peace and development in the province.
Meanwhile, two former CPP-NPA commanders, who requested anonymity, also called on their former comrades to yield to put an end to the decades-long communist insurgency.
"We recruited you in the armed struggle before, now, we recruited you for peace. We came here for peace engagements to prove that peaceful dialogue and consultation with you can be conducted without violating our Constitution, without harm, and without war. Let us live with peace and harmony in our home and our government will help us to improve our lives," the two former insurgents said.
Maj. Pedro L. Peralta, executive officer of the Philippine Army's 91st Infantry "Sinagtala" Battalion, called for support for the government's peace efforts and encouraged the former rebels and their relatives to join the Philippine Army.
During Wednesday's event, the former combatants received food packs from the Aurora Police Provincial Office.
The CPP-NPA is listed as a terrorist organization by the United States, European Union, the United Kingdom, Australia, Canada, New Zealand, and the Philippines.
The National Democratic Front has been formally designated as a terrorist organization by the Anti-Terrorism Council on June 23, 2021, citing it as "an integral and inseparable part" of the CPP-NPA created in April 1973. (PNA)