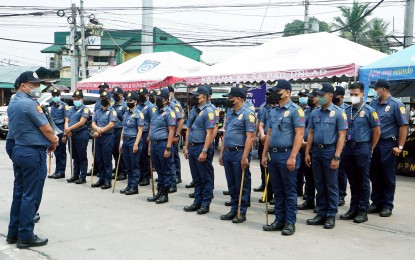 MANILA – Philippine National Police (PNP) chief Gen. Rodolfo Azurin Jr. on Wednesday warned police chiefs to discipline their erring personnel or get relieved if they fail to do so.
"If you are not going to do your job, then the entire station or sub-station will be relieved and they will be replaced with more responsible and accountable PNP personnel," Azurin said in a statement.
He reiterated the standard procedure wherein immediate supervisors of arrested personnel should automatically conduct an investigation and prompt the Internal Affairs Service (IAS) for possible filing of administrative cases under the doctrine of command responsibility.
"Instilling discipline is a routinary action that must be taken priority so we can implant integrity in our work," Azurin said.
Azurin's remarks came after a rookie cop was nabbed on Tuesday by members of the PNP's anti-scalawag unit, the Integrity Monitoring and Enforcement Group (IMEG), in Taguig City on charges of forcible abduction with rape.
Pat. Jerome Arroyo, who is assigned to the Manila Police District, is the subject of an arrest warrant issued by the Manila Regional Trial Court Branch 27.
This came just a day after IMEG agents arrested three personnel of the Manila Police District for alleged extortion.
IMEG data showed that in July alone, 92 cases have been filed before the court against cops tagged in robbery extortion charges. (PNA)