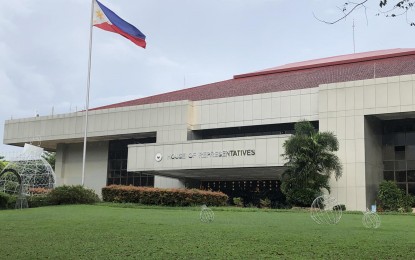 MANILA – Lawmakers on Wednesday filed separate resolutions seeking a congressional inquiry on the probable violations of TV5 Network Inc. regarding its legislative franchise.
Zamboanga Sibugay Rep. Wilter Palma filed House Resolution 280, which seeks to investigate the network's alleged violation of constitutional prohibition on foreign ownership.
Palma cited published reports alleging that TV5, formerly known as ABC Development Corporation, is actually owned by an Indonesian national.
He cited Section 11, Article XII of the 1987 Constitution stating that no franchise for the operation of a public utility shall be granted "except to citizens of the Philippines or to corporations or associations organized under the laws of the Philippines, at least 60 per centum of whose capital is owned by such citizens".
He also cited Section 11, Article XVI of the Constitution providing that the ownership and management of mass media shall be limited to Filipino citizens, or to corporations, cooperatives, or associations wholly-owned and managed by such citizens.
"If this allegation that TV5 Network Inc. is owned by an Indonesian national is true, then there is a clear violation of the 1987 Constitution, and on the terms and conditions of the franchise granted to TV5 Network Inc., which must be thoroughly and efficiently looked into in the interest of the public," Palma said.
Quezon Rep. David Suarez, meanwhile, filed House Resolution 281, which urges the House Committee on Legislative Franchises to look into the possible franchise violation of TV5 due to its block time agreement with ABS-CBN Corporation.
Suarez noted that ABS-CBN, with the expiration of its franchise and subsequent denial of its renewal or extension, is unable to broadcast its programs and contents on free television, but it is operating through cable television and online platforms.
Suarez said through a block time agreement with TV5, ABS-CBN is able to deliver its programs such as ASAP Natin Ito, It's Showtime, FPJ's Ang Probinsyano, and Mars Ravelo's Darna through free television broadcast.
He also pointed out that the recent partnership formed between the two media networks would further increase the block time of ABS-CBN, which would reportedly acquire 34.99 percent of the total voting and outstanding capital stock of TV5.
He cited Section 10 of Republic Act 11320, or the law granting TV5's franchise, which prohibits the network to grant the "usufruct of its rights and privileges" to any person, firm, or any commercial or legal entity without the prior approval of Congress.
"Without enabling legislation regulating block time agreements, radio and television networks with expired legislative franchise and whose applications for the renewal or grant of new franchise were denied, may indirectly continue broadcasting their programs and contents on free television through networks with valid legislative franchise which would be a clear circumvention of the law," Suarez said.
On the other hand, TGP Party-list Rep. Jose Teves Jr. filed House Bill 282, which looks into the alleged airing of news program TV Patrol produced by ABS-CBN with other networks, which could constitute violations of their legislative franchises.
"Given the possible violations committed by these networks, there is a need to determine whether their legislative franchises are being implemented and carried out in accordance with the intent of Congress and whether or not they should be amended, altered, or repealed by Congress in the interest of the public," Teves said.
Last week, National Telecommunications Commission (NTC) Commissioner Gamaliel Cordoba said there would be a thorough review of the proposed joint venture between TV5 and ABS-CBN due to the latter's outstanding violations revealed during the investigation made by the 18th Congress in 2020.
The deal, Cordoba said, would allow ABS-CBN to have part ownership of TV5 and would allow the former to "ride" the broadcasting franchise of the latter.
"Hindi po sila makakuha ng sariling prangkisa, so ang ginagawa po nila is sasakay po sila dito sa prangkisa po ng TV5. Pero hanggang ngayon po ay bitbit po nila ang kanilang mga violations kahit dati pa po iyon (They can't secure their own franchise, so what they will do is ride the franchise of TV5. But until now they are still burdened with their old violations)," he said.
He announced the release of NTC Memorandum Order 3-06-2022 that would prohibit a "franchise grantee" to enter into "mergers, joint ventures, sale, or any commercial agreement arrangements on matters within the Commission's mandate and jurisdiction."
"Dapat po ang franchise grantee ay hindi po makikipag-enter ng commercial arrangement sa isang entity na may mga obligasyon po sa national and local government (The franchise grantee should not be able to enter into a commercial arrangement with an entity that still has obligations with the national and local governments)," he said.
The franchise grantee, he said, will have to ensure that clearances have been obtained from the "appropriate government agencies" such as the Bureau of Internal Revenue, Bureau of Customs, the Securities and Exchange Commission and the NTC. (PNA)