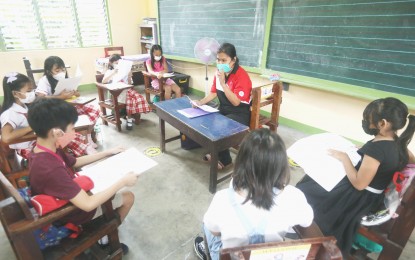 MANILA – Ahead of the opening of classes next week, a professor from the De La Salle University on Wednesday urged fellow teachers to watch out for the learners' mental health.
In a webinar, Maria Caridad Tarroja, who teaches psychology, said both students and teachers have adjusted to remote learning in amid the pandemic. Gearing for the face-to-face classes would require them to make adjustments again.
"Online classes may be okay for some, but these may have been overwhelming for some," she said, pointing out that this was just among the stressors that students had to deal with.
The pandemic had prevented the students from socializing even as online classes brought added financial and technological challenges to them, including internet access.
Tarroja added that social media also affects learners' mental health, as students tend to compare themselves with others or get consumed by the number of "likes" in their posts.
She suggested removing addictive mobile applications and turning off notifications to allow learners to focus and prioritize other productive activities.
Stress, she said, has various effects on the body like depression, rise in blood pressure, risk of heart attack, stomach pain, and frequent muscle and joint pains.
"You can pinpoint mental health challenges by observing behavioral changes. For example, the student used to be so active in recitation, and now he or she is not," she said.
Being more quiet than usual is another indicator of mental health decline, Tarroja said.
To prevent or counter the effects of these stressors, Tarroja urged schools to help increase mental health awareness among students, and closely coordinate with parents and the community.
Integration of mental health and digital citizenship in the curriculum, and ensuring the security and safety of the apps used for remote learning are also the teachers and schools' responsibility.
Tarroja suggested that schools should collaborate with hardware and software firms to promote safe Internet among children and teenagers.
"We must also provide support for students to develop coping skills," Tarroja said.
Schools have the option to conduct remote, hybrid, or in-person classes but only until November, when face-to-face classes become mandatory. (PNA)