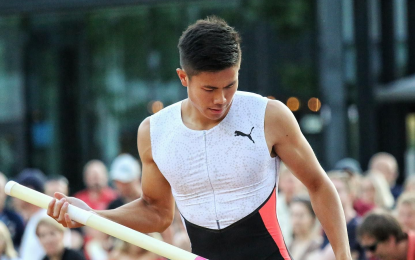 MANILA – The Philippine Athletics Track and Field Association (PATAFA) has formally endorsed world No. 3 pole vaulter EJ Obiena for reinstatement to the national team.
The Philippine Sports Commission (PSC) confirmed on Wednesday that PATAFA made the reinstatement request after most of the board members at the athletics body's special board meeting on Saturday approved Obiena's return to the Philippine team.
PATAFA executive vice president Willie Torres represented the organization in a meeting with the PSC endorsing Obiena's reinstatement along with six undisclosed tracksters.
PSC executive director Guillermo Iroy said Obiena's reinstatement takes effect this month even as it will align with the existing team quota of athletics.
PSC commissioner Bong Coo, now acting as the agency's officer-in-charge, is elated with the reinstatement. "We are thankful to the PATAFA leadership for taking this step to solidify the strength of our national athletics team," she said.
Obiena was taken out of the national team following a spat with PATAFA, then led by Popoy Juico.
The PSC, under the previous leadership of Butch Ramirez, successfully played as the mediator for PATAFA and Obiena to patch things up, eventually letting him defend the gold in the Southeast Asian Games last May in Hanoi.
Juico has since been replaced as president by Terry Capistrano, who quickly made efforts to bring Obiena back to the national team fresh from his historic bronze medal performance in the World Athletics Championships. (PNA)