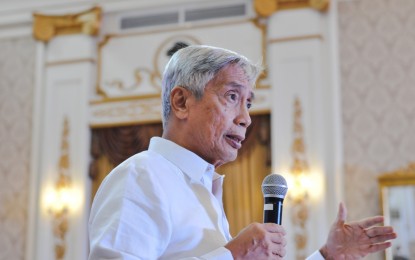 MANILA – Bangko Sentral ng Pilipinas (BSP) Governor Felipe Medalla on Wednesday did not rule out further hikes in the central bank's key policy rates, citing the need to address factors affecting inflation.
During the Economic Journalists Association of the Philippines–San Miguel Corporation (EJAP-SMC) economic forum, Medalla said any adjustment in the BSP's key rates during the rate setting meeting of the policy-making Monetary Board (MB) this Thursday will be between 25 to 50 basis points.
"As to whether there will be more rate hikes in the remaining meetings, we will not rule them because as you know, we want the midpoint of the forecast for next year to be below 4 (percent). And for 2024, as close to 3 (percent) as possible," he said.
The government's inflation target for 2022-2024 is between 2 to 4 percent.
The rate of price increases in the first seven months of the year averaged at 4.7 percent, with the July figure rising to 6.4 percent, the highest since October 2018.
The BSP forecasts average inflation this year to be at 5 percent.
Among the drivers of inflation to date are the elevated prices of oil in the international market due in part to the Russia-Ukraine conflict, higher prices of other commodities, as well as supply constraints on some food items.
Medalla said it is difficult to forecast what the next policy rate decisions of the MB would be "because a lot of the things that drive inflation may subside."
He said correlation of the expansion of domestic economy and the global economy has lessened due to reliance of the domestic economy to inflows from overseas Filipino workers (OFWs) and the business process outsourcing (BPO) sector, among others.
Medalla said the country also imports a lot of food and fuels.
"So if those factors work in our direction, when food supply improves, if petroleum prices fall, then we will need fewer rate hikes," he said.
To date, the BSP's key rates have been hiked by a total of 125 basis points.
Socioeconomic Planning Secretary Arsenio Balisacan, during the same event, discounted the need to implement price controls to address the accelerating inflation rate.
"We should not use price control to control inflation… because that does more harm than good, especially in the medium and longer term," he said.
He, instead, cited the need to use existing government resources to aid the vulnerable sectors to ensure that their requirements are addressed. (PNA)