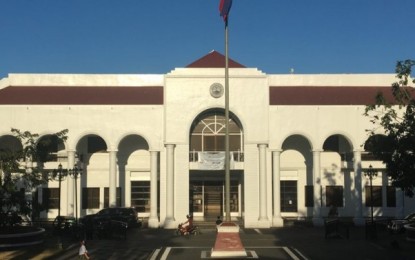 LEGAZPI CITY – The Sangguniang Panlalawigan of Albay (provincial board) approved on Tuesday the first proposed supplemental budget of more than PHP257-million to fund various projects on health and other social services needed by the Albayanons.
In an interview on Thursday, Albay Governor Noel Rosal commended the SPA for its swift approval of the proposed supplemental budget, saying pro-people projects would be realized.
"I am really elated by the very quick approval by the SPA of the first supplemental budget that the Office of the Governor has proposed," Rosal said.
The budget included the hiring of hospital personnel such as doctors, nurses, nursing aides, and medical and radiologic technologists; and, the hiring of casuals for the province-run hospitals amounting to PHP25.2001-million.
Also given budget are the operations of various Albay-run hospitals including the Dr. LP Ziga Memorial District Hospital (PHP5.215 million); JB Duran Albay Provincial Provincial Hospital (PHP7 million); Pioduran Memorial District Hospital (PHP5.355 million); Cagraray District Hospital (PHP1 million); Manito Municipal Hospital (PHP1.48017); and, Villahermosa Municipal Hospital (PHP400,000).
Board Member Raul Rosal, also Committee on Budget and Appropriations chair, said all the 720 barangays of Albay will receive PHP100,000 each as part of the subsidies of the provincial government to further strengthen the implementation of social services in the barangay level.
"Another PHP45 million, which is part of the approved budget, would also be allocated for the improvement of eight district hospitals and for the salaries and wages of the medical personnel in order to improve the health care services urgently needed by the people, particularly by those less fortunate patients, as earlier promised by the governor during the campaign," Rosal added.
He said some PHP25 million would also be allocated for the social pension of the 16,666 senior citizens across the province, who would receive PHP500 each per month.
He added that PHP10 million has also been allocated as burial assistance, with the bereaved receiving PHP5,000 for every family.
"The PHP40-million of the supplemental budget would be used for the improvement of the Peñaranda Park, plazas, and monuments," Rosal said.
He said the other remaining budget would be used by the provincial government for legislative expenses, including salaries and wages of employees as well as maintenance of mobility, telephone, water, and electric bills, and other expenses for the maintenance of the different provincial offices.
Board Member Dennise Misolania, Association of Barangay Captain-Albay Chapter president, said the PHP72-million subsidy to all the villages of Albay would serve as a trust fund that could be used to fund their social services programs and other priority projects. (PNA)