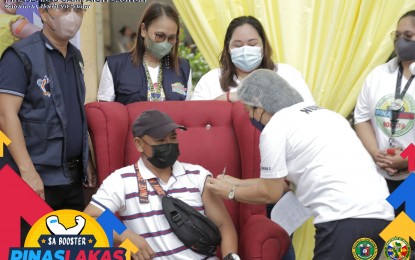 TACLOBAN CITY – Local government units in Eastern Visayas will provide incentives to encourage more residents to get Covid-19 vaccines as part of the nationwide PinasLakas campaign.
During the regional launch on Thursday, Biliran Governor Gerard Espina said after attaining 94 percent in the vaccination of first and second doses for senior citizens, they would shift to persuading the general population to get booster shots.
"Just like in the past, we are thinking of doing raffle draws or offer free rides to those who will get booster shots. We will do what we did in the past to make vaccination appealing to the public. We also have to increase public awareness on the importance of booster doses," Espina told reporters.
The province registered only 15 percent coverage for booster doses. Of the 63,701 target population for booster shots, only 19,504 have been vaccinated.
For the administration of the primary series, Biliran has been recognized by the Department of Health as the top performer among six provinces and two independent cities in the Eastern Visayas region.
In Calbayog City, Samar where only 64 percent of residents received the primary shots, Mayor Raymund Uy said they would compel village officials to locate and convince the unvaccinated.
For the booster dose, of the 137,901 target population, only 6,991 received the first booster shot and 521 got the second booster shot.
"The target for PinasLakas campaign is 90 percent. That would be very hard for us to meet that. Our more realistic target is to attain 70 percent," Uy said.
"We will not extend assistance to villages and their officials will not be allowed to travel outside the region to attend official events if their community will not achieve the minimum 70 percent coverage target," he added.
DOH Eastern Visayas assistant regional director Rodolfo Antonio Albornoz emphasized the need to administer booster shots due to the recent increasing trend of cases.
"In the region, only 20 percent of seniors are fully vaccinated while 40 percent of our general population need booster shots," Albornoz added.
The official urged local government units to help in setting up vaccination sites in schools, tourism destinations, churches, public markets, terminals, and other public places.
The new PinasLakas campaign targets 90 percent coverage for the primary series of senior citizens and 50 percent coverage for the first booster of the general population on or before the President's first 100 days or Oct. 8, 2022.
As of Aug. 15, some 65 percent of the region's senior citizens got the primary shots while only 13 percent of the general population received booster shots. (PNA)