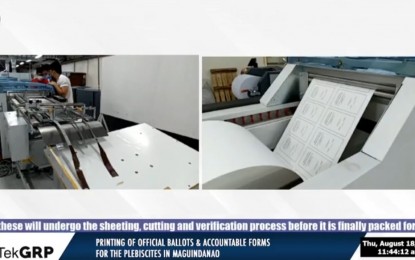 MANILA – The Commission on Elections (Comelec) on Thursday started the printing of the 818,790 ballots for the Sept. 17 plebiscite to ratify the division of the province of Maguindanao.
In a statement, the Comelec said the printing began at 9 a.m. at the National Printing Office (NPO) in Quezon City.
Aside from the ballots, other accountable forms will be printed to be used for the activity.
The holding of the plebiscite is pursuant to Republic Act 11550 signed by former President Rodrigo Duterte in May last year, which seeks to divide Maguindanao into two separate provinces -- Maguindanao del Norte and Maguindanao del Sur.
Maguindanao del Norte will be composed of the municipalities of Barira, Buldon, Datu Blah Sinsuat, Datu Odin Sinsuat, Kabuntalan, Matanog, Northern Kabuntalan, Parang, North Upi, Sultan Kudarat, Sultan Mastura, and Talitay, with Datu Odin Sinsuat as its capital town.
Maguindanao del Sur, meanwhile, will be composed of Ampatuan, Buluan, Datu Abdullah Sangki, Datu Anggal Midtimbang, Datu Hoffer Ampatuan, Datu Montawal, Datu Paglas, Datu Piang, Datu Salibo, Datu Saudi Ampatuan, Datu Unsay, Gen. Salipada K. Pendatun, Guindulungan, Mamasapano, Mangudadatu, Pagalungan, Paglat, Pandag, Rajah Buayan, Shariff Aguak, Shariff Saydona Mustafa, Sultan sa Barongis, Talayan, and South Upi. Its seat of government will be in Buluan.
Comelec chairperson George Garcia is in Maguindanao for the holding of a command conference in connection with the upcoming plebiscite.
Pursuant to Comelec Resolution No. 10830 approved on Aug. 3, a gun ban has been in effect in the province since Aug. 16 and will last until Sept. 24 or a week after the plebiscite. (PNA)