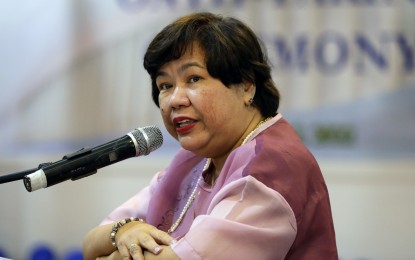 MANILA – The Department of Migrant Workers (DMW) will come up with a whitelist and blacklist of recruitment agencies in the country and abroad to better guide and protect overseas Filipino workers (OFWs) and foreign employers.
In a statement issued on Thursday, DMW Secretary Susan "Toots" Ople said stricter measures will be imposed for the protection of OFWs, particularly domestic workers or those working in households.
She said local and foreign recruitment agencies that consistently adhere to fair and ethical recruitment standards and principles will be included in the white list of recruitment agencies.
Meanwhile, the DMW will also publish the identities of foreign employers and recruitment agencies, both foreign and local, that have been blacklisted due to recruitment and labor violations, and have committed or were involved in severe exploitations and abuse of OFWs.
"Safeguarding the rights and welfare of our migrant workers is at the heart of the DMW's programs, services, and agreements. We will always strive to do our best amid so many challenges in the world we live in," Ople said.
Among the measures that will be implemented by the DMW, which will also serve as its guide, are the objectives contained in the United Nations (UN) Global Compact on Safe, Orderly, and Regular Migration in negotiating bilateral labor agreements with other countries.
Ople said these will ensure a rights-based approach in the deployment of Filipino workers overseas.
Other initiatives to ensure the protection of OFWs include:
- a performance review and assessment of licensed recruitment agencies and their foreign counterparts based on deployment numbers and the capacity to monitor and act on welfare cases;
- the issuance of country-specific employment contracts taking into account prevailing labor laws and migration policies as well as contents of any bilateral labor agreements with labor-destination countries;
- strict department guidelines to ensure that only qualified and fully trained domestic workers are deployed abroad; and
- the mandatory viewing by all new employers of a video on OFW rights and welfare, before any employment contracts are signed;
The DMW will also review and craft new verification guidelines by the Philippine Overseas Labor Office to address gaps in the system and strengthen protection mechanisms for OFWs.
One specific challenge faced by the DMW is the trafficking of migrant workers from a second-origin country to the next.
Ople said OFWs in countries like the United Arab Emirates are illegally recruited by Filipinos and other foreign agents to work in a third country, such as Syria, Iraq, Lebanon, and even countries in Europe like Poland, Hungary, and Romania.
"We also appeal to our kababayans to be more discerning about such bogus offers, and to report illegal recruiters and human traffickers to the DMW," Ople said. (PNA)