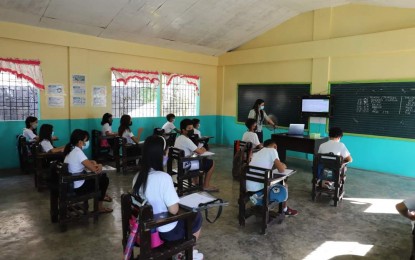 MANILA – A lawmaker on Thursday said the second Congressional Commission Education (Edcom II) should reexamine what medium of instruction to use in Philippine schools in line with President Ferdinand Marcos Jr.'s proposal to use the English language to teach students.
In a statement, Camarines Sur Rep. Luis Raymund Villafuerte said a congressional review must be done to bring back English as the primary medium of instruction in basic education, as he cited the President's argument to maintain the competitive edge of Filipinos in the global marketplace as an "English-speaking people".
Edcom II, which shall be composed of five senators and five members of the House of Representatives, has been tasked under Republic Act No. 11899 to make another comprehensive national assessment and evaluation of the performance of the education sector, by reviewing the mandates of the Department of Education, Commission on Higher Education and the Technical Education and Skills Development Authority.
The recently-lapsed Edcom II Act mandates the 10-man commission to come up with educational reforms to meet the new challenges to education, such as alternative learning and delivery modes for basic education, higher education and post-secondary technical-vocational education and training as part of the adjustments and responses to the global pandemic.
The commission would also try to address the challenges brought about by the advent of the Fourth Industrial Revolution characterized, among others, by digital revolution or the rapid development of information technology such as artificial intelligence, automation, data analytics, blockchain data sharing, quantum computing, and internet of things analytics.
"A 'review' of what medium of instruction should be used in our schools, as what the President mentioned in his July 25 SONA, should be one of the focal concerns of the would-be second Congressional Commission Education," Villafuerte said.
Stressing in his 1st State of the Nation Address the need to equip the students with the materials necessary for effective teaching, President Marcos said: "Foreign employers have always favored Filipino employees because of our command of the English language. This is an advantage that we must continue to enjoy."
"The language of the internet—for better or for worse—is English," Marcos said. "Therefore, the question of our medium of instruction must be continuously re-examined to maintain that advantage that we have established as an English-speaking people." (PNA)