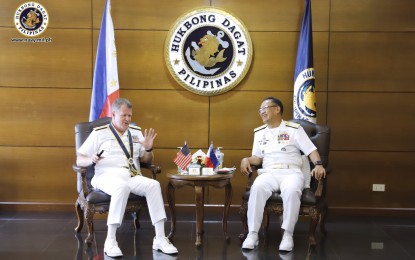 MANILA – The Philippine Navy (PN) and the United States Navy will further boost their strategic partnership in the coming days.
This came as US Pacific Fleet commander Adm. Samuel Paparo paid a courtesy call on PN Chief, Vice Adm. Adeluis Bordado, at the PN headquarters in Naval Station Jose Andrada, Manila on Thursday.
"Adm. Paparo described such partnership to be at 'exciting times right now and moving ahead,' citing the upcoming exercises between each other's fleet and marine forces like exercises 'Pagsasama' and 'Balikatan', and the conduct of bilateral activities with the recent signing of the Maritime Security Framework 'Bantay Dagat'," PN spokesperson Commander Benjo Negranza said in a statement Thursday night.
Bordado also apprised Paparo of the status of the implementing guidelines on the maritime framework, wherein the latter vowed readiness "to support in each and every way."
"The visiting admiral also took the opportunity to personally congratulate the PN for the remarkable performance of BRP Antonio Luna (FF-151) and its contingent during the conduct of RIMPAC (Rim of the Pacific) 2022," Negranza said.
Paparo was referring to the BRP Antonio Luna's third-place finish in RIMPAC's gunnery exercise challenge.
Both Navy leaders reaffirmed their commitment to regional stability through solidarity and legitimate alliance.
As this developed, the PN's missile frigate BRP Antonio Luna on Wednesday arrived in Guam for a brief layover before heading home to the Philippines.
"Said stop is intended for the replenishment of fuel and necessary provisions following their strenuous yet rewarding participation in the recently concluded RIMPAC Exercise 2022 in Hawaii," Negranza said.
The replenishment is being facilitated by a support team from the PN's Naval Logistic Center led by Lt. Commander Brian Suico.
"Guam's accommodation and support extended to (Naval Task Group) NTG 80.5 bespeaks the long-standing friendship between the Philippines and the United States island territory," Negranza said.
This year's RIMPAC took place from June 29 to August 4 while the BRP Antonio Luna departed from Hawaii on August 8. (PNA)