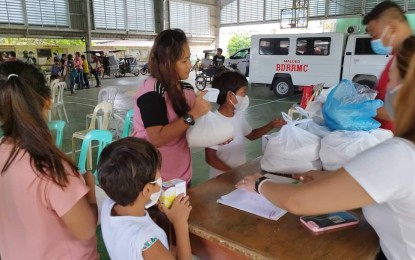 DAGUPAN CITY – The city government is giving away three kilograms of rice as an incentive to the residents availing of the coronavirus disease 2019 (Covid-19) vaccine and booster shots.
Liga ng mga Barangay president Marcelino Fernandez said the vaccination campaign here is being conducted in the communities to make it accessible to the people.
"I encourage our kababayans (townmates) to get their booster shot or have themselves get vaccinated for their protection and the community," he said in a radio interview on Friday.
Fernandez said the remaining unvaccinated residents are those who still have fear of the vaccine and those who have no time to go to the immunization centers.
"We are now bringing the inoculation to the barangays so it would be accessible to them and we would urge them to remove their fear. The incentive might actually help as well to convince them," he added.
Dr. Paula Paz Sydiongco, Department of Health Center for Health and Development Ilocos regional director, during the launching of Pinaslakas on Aug. 15, lauded the city for reaching the 97.79 percent mark in vaccination, resulting in 144,699 fully-immunized residents.
Some 1,000 individuals have been inoculated during the launching.
A similar vaccination drive was previously conducted in Barangay Salisay where each resident availing of the jabs received five kilos of rice, along with free medical check-ups from the City Health Office and registration forms for the KonSulTa (Konsultasyong Sulit at Tama) program under the Universal Health Care.
Aside from conducting vaccination in the barangays, the Pinaslakas team will also bring vaccination to various business establishments and offices in the city. (PNA)