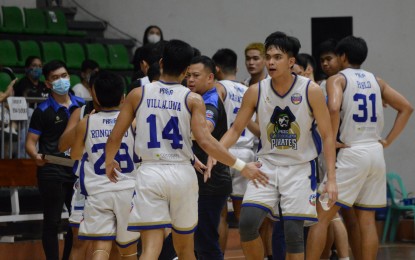 MANILA – The Pilipinas Super League (PSL) has banned a team official who confronted a referee in a semifinal game in Pampanga while the team was slapped a fine for its post-game actions.
The Pasig Pirates must pay PHP25,000 in fines while team official Jarvis Co is banned from watching the games live, according to a PSL memorandum, a copy of which was obtained by the Philippine News Agency late Saturday night.
The Pirates charged to the court while Co hurled unsavory remarks toward a referee for what he perceived as bum calls after Game 2 of Pasig's PSL 21U Luzon Leg semifinal match against Immaculada Concepcion College (ICC) at the Bren Z. Guiao Convention Center at the City of San Fernando on Thursday night.
The ICC Blue Hawks won, 92-87, to send the series to a deciding Game 3 on Sunday.
Co's actions violated the league's rule on halftime and endgame conduct, which directs leaving the court and going directly to the dressing room "without pause or delay. There is absolutely no talking to game officials."
Pasig must pay PHP20,000 for the infraction while Co was meted out a PHP5,000-fine for "conduct unbecoming of a team official".
PSL president Rocky Chan acknowledged that there might have indeed been some calls and non-calls and understands it was a crucial playoff game where Pasig looked to sweep ICC.
"Ang point dyan, hindi perfect ang officiating (The point is, officiating is not perfect). There might be lapses on calls during the duration of the game," Chan said in a statement on Sunday.
Leo Isaac, PSL head of basketball operations, said the referees have been given disciplinary actions while the league vowed to continually improve officiating.
"On our end, officiating continues to improve as well and the referees will also be penalized," Isaac said in another statement.
However, league officials said the Pirates should have kept their poise.
"Still, that Pasig team's officials attacking our league officiating is unacceptable," Chan said.
Isaac said PSL "cannot tolerate such actions especially as we are doing our best to be role models to the youth." (PNA)