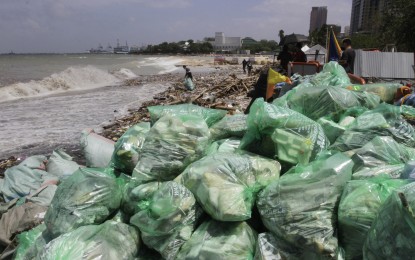 MANILA – The United States government, through the US Agency for International Development (USAID), and Clean Cities, Blue Ocean (CCBO) program grantee Communities Organized for Resource Allocation (CORA) Inc. has recently launched a plastic buying and exchange center to address ocean plastic pollution in Parañaque City.
The Eco-Ikot Center serves as an inclusive and replicable waste collection and recycling system to help communities prevent solid waste from ending up in landfills.
It supports and strengthens local government systems and infrastructure while providing incentives for the community to adopt more sustainable behavior by trading in recyclables.
Local residents will be able to exchange their clean, dry, and segregated recyclables for points that can be redeemed for various incentives like digital currency, rice, fresh vegetables and other sustainable or reusable items.
The idea to establish an Eco-Ikot Center was spurred by the large volume of recyclable plastics that CORA volunteers regularly collect during cleanup drives along Manila Bay.
"This center will serve as a model for promoting 'reduce, reuse, and recycle' practices in local communities," USAID Philippines Acting Environment Office Director Dr. John Piggott said in a statement on Sunday. "Through our work together, we can make measurable progress in stemming the tide of ocean plastic pollution."
On the other hand, CORA Philippines founder and executive director Antoinette Taus said, "Partnerships, together with community-led actions, play a crucial part in achieving our global goals."
"USAID's CCBO program has provided CORA with the necessary tools to empower communities with sustainable waste management solutions that benefit women, local citizens, and our shared environment," she added.
USAID's CCBO program was launched in August 2019 as the Agency's flagship program to respond to the ocean plastics pollution crisis.
The five-year, PHP2.7 billion ($48 million) program works at the global level and in rapidly urbanizing countries like the Philippines to address ocean plastics directly at their source.
By strengthening waste management systems and building circular economies, the CCBO program builds sustainable solutions that reduce ocean plastics while empowering vulnerable populations and mitigating pollution that affects human health and the climate. (PR)