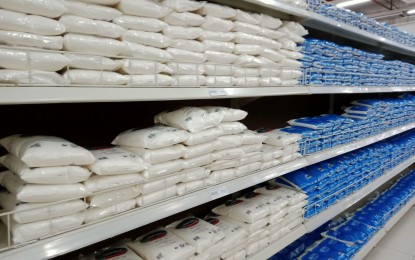 MANILA – Bureau of Customs (BOC) agents recently conducted series of inspections on several sugar warehouses in Caloocan City and Marilao, Bulacan upon the orders of Executive Secretary Victor Rodriguez.
In a statement Monday, the BOC said the inspections were conducted on Aug. 19 and 20, by virtue of a Letter of Authority issued by Customs Commissioner Yogi Felimon Ruiz, led by Customs Intelligence and Investigation Service (CIIS), Enforcement and Security Service (ESS) and members of military intelligence, where they found thousands of sacks of sugar.
The authorities asked personnel from the warehouses to present necessary documents.
On the other hand, the BOC will refer them to the Department of Trade and Industry and the Sugar Regulatory Administration for possible infractions.
Last week, the BOC intercepted a shipment of sugar at the Subic Port because of "derogatory information" stating that there are possible "irregularities"
"We would never allow such modus to happen. I took on this role with complete acceptance of the tall order of guarding the country's borders against illegal smuggling. We would always bring the same 100 percent commitment to our jobs," Ruiz said.
This came after reports reached BOC officials about import permits that have been allegedly reused to bring in a new batch of sugar shipments into the country amid high prices of the commodity in the market.
CIIS director Jeoffrey Tacio said the sugar shipment from Thailand was covered by a "Special Permit to Discharge (SPD) and Verified Single Administrative Document (SAD)" from the bureau, and had a verified clearance from the Sugar Regulatory Administration (SRA).
The said shipment was supposed to be released at 11 a.m. on Aug. 18, because it had clearance from both BOC and SRA, but its discharge was put on hold due to the derogatory information received by BOC.
The bureau is currently investigating several warehouses, including the two warehouses in San Jose Del Monte, Bulacan that claimed to have stored "locally procured" sugar.
President Ferdinand Marcos Jr., who concurrently serves as Agriculture Secretary and chairperson of the SRA board, earlier rejected Sugar Order No. 4, which would have authorized the importation of 300,000 metric tons of sugar in the country. (PNA)