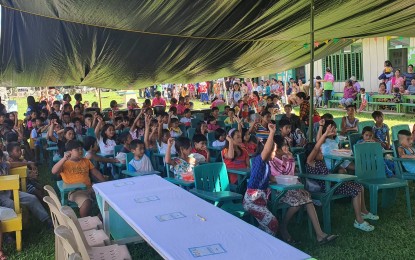 TACLOBAN CITY – The Philippine Army's 20th Infantry Battalion has brought its book donation activity to a remote village in Northern Samar previously affected by armed conflict.
The military said on Monday their "KinaBOOKasan" Project reached the Siljagon Elementary School in Siljagon village in Mapanas, Northern Samar last Saturday, the second round since its launching in December 2021.
Soldiers and donors reached the school after three hours of motorcycle ride and crossing the river twice in motorboats. The campus is 78 kilometers away from the battalion headquarters based in nearby Las Navas town.
The project supplied books to 350 students of the school. After the distribution of the gift packs, the unit also conducted a feeding program that caters almost the entire village with a total population of 1,715.
"This project showcases the commitment of helping the student sector who are usually exploited and became the victim of the deceptive recruitment of the New People's Army (NPA)," said 2nd Lt. Joyce Ann Bayron, Philippine Army's 20th Infantry Battalion spokesperson, in a statement.
Bayron said the project will give the students an opportunity to discover for themselves that reading one book can change their lives.
Siljagon village is considered as one of the conflict-affected communities, which has been infiltrated by the communist terrorist group. The village has served as haven of the armed group in the past.
The Communist Party of the Philippines-NPA is listed as a terrorist organization by the United States, the European Union, the United Kingdom, Australia, Canada, New Zealand, and the Philippines.
The Anti-Terrorism Council also formally designated the National Democratic Front as a terrorist organization on June 23, 2021, citing it as "an integral and inseparable part" of the CPP-NPA that was created in April 1973. (PNA)