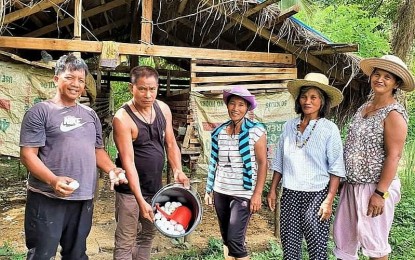 BAGUIO CITY – The Department of Agriculture in the Cordillera Administrative Region (DA-CAR) is confident that the expansion of the Special Area for Agricultural Development (SAAD) program to other provinces in the region will help meet its food production goal.
Dr. Cameron Odsey, regional director of the DA-CAR, said in a phone interview on Monday that increasing food production through the continuity of providing various interventions, particularly in poor communities, can be achieved by the current administration of President Ferdinand "Bongbong" Marcos Jr. via the SAAD.
SAAD is a locally-funded program of the DA intended to help alleviate poverty among the agriculture and fishery sectors by increasing food production in 30 priority provinces in the country. Kalinga, Apayao and Mountain Province are among the pilot areas covered by the program in the Cordillera.
Odsey said under the current administration, SAAD has been expanded to also cover the provinces of Abra, Benguet and Ifugao.
"The program aims to give agricultural interventions on animals, crops, and fisheries to identified beneficiaries with its four major components like program management, social preparation, production and livelihood interventions, and marketing assistance and enterprise development," he noted.
He cited as an example the effort to increase swine production in areas identified as African swine fever (ASF)-free and to produce healthy piglets that can be distributed to the other interested community members. The excess will be distributed to other areas in the region.
Also part of SAAD's intervention is the provision of farm inputs like fertilizers, seeds, and feeds to farmer and fisherfolk belonging to accredited Farmer Cooperative Associations (FCA).
Odsey said Marcos, during his first State of the Nation Address, mentioned the SAAD program's importance in improving the lives of those in poor communities and in producing the food needs of the nation.
"SAAD is important in reaching out still to our poorer communities and these are the communities that need support in terms of being able to produce their food and have a livelihood from selling the extra production," Odsey said.
The program's continuation under the Marcos administration is a commitment to responding to the needs of the indigent, especially those residing in the highlands of the Cordillera, he noted. (PNA)