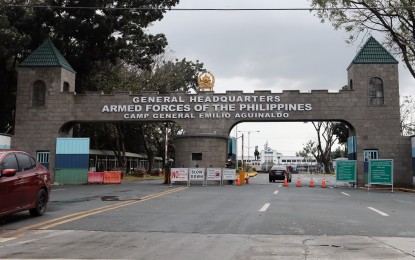 MANILA – The Armed Forces of the Philippines (AFP) said it is now checking the identities of the passengers aboard a motorboat that exploded following an encounter with government troops during a "water interdiction operation" in Catbalogan, Samar early Monday morning.
This came after reports claimed that Communist Party of the Philippines-New People's Army-National Democratic Front (CPP-NPA-NDF) chair Benito Tiamzon and his wife Wilma, the group's secretary general, and other communist personalities are among the passengers of the boat.
In a message, AFP chief-of-staff Lt. Gen. Bartolome Vicente Bacarro said they are still validating this report with the 8th Infantry Division, the unit which has jurisdiction over the Samar area.
He also added that 8th Infantry Division commander Maj. Gen. Edgardo de Leon will be the one giving updates once it becomes available.
Meanwhile, De Leon, in a separate interview with reporters, said they are still determining the personalities involved in the encounter and that troops involved in this operation have already been debriefed.
He added that Monday's early morning encounter stemmed from their ongoing operation in northern and tri-boundary of Samar and Eastern Samar aimed at guarding exits being used by the NPAs in their movements as they seemed to be separating and splitting off and using rivers connected to the sea in making their getaway.
"So kaninang madaling araw na-alert yung aming scout boats ng Special Forces kasi merong report na merong apparent movement of a group of NPA members papalabas sa dagat so incidentally around 4:20 a.m. to 4:25 a.m. sa may vicinity ng Calbayog towards Buri Island in Catbalogan area, pero malayo, dagat, offshore yun general direction (Early this morning, we have alerted the scout boats of the Special Forces because there is a report of an apparent movement of a group of NPA members traveling by sea so incidentally around 4:20 to 4:25 a.m., it was in the vicinity of Calbayog towards Buri Island in Catbalogan area, but it is far. The general direction is offshore)," De Leon said.
He added that the scout boats whose crew were equipped with night vision goggles (NVGs) saw something suspicious and interdicted the craft.
De Leon said military personnel even used a megaphone to stop the boat but instead of stopping, the occupants of the boat fired at the troops which ensued in an encounter.
"Nagkaroon ng huge explosion, alas kwatro na ng madaling araw yun eh, madilim, hindi makalapit yung scout boats ano, kasi while they are wearing NVGs hindi nila matantya kung ano ba ang meron dun, so nung maliwanag na wala na silang ano, puro debris na yung nakita nila (There was a huge explosion. That was around 4 a.m., it was dark and the scout boats cannot just approach them easily. While they are wearing NVGs, they cannot determine what can be found there. When the sun is already up in the morning, they only saw debris). So right at this point, we cannot ascertain kung may NPAs na naging casualty dun sa lugar na yun, kaya nga kanina ko pa sinasabi (if there are NPA members that became casualties in the area. This is why I am saying this) I can not ascertain," he added.
When asked what could have caused the explosion, De Leon said it is possible that the boat could have been carrying explosives.
He also said their informant have told them that the boat have been carrying boxes that could have been used to transport NPA materiel out of Samar to escape the military.
"Hindi namin alam kung deliberately done nila yun o dahil sa, oo tinamaan kasi merong mga, may mga rifle grenade din yung tropa (We are not privy as to whether this is deliberately done or not. Our troops' rifle grenades could have hit something explosive, causing these to go off)," De Leon said.
When asked to confirm whether they have information on whether the Tiamzons are aboard, he added that they are still tracing the information at hand.
The Tiamzon couple was arrested on March 22, 2014, and detained at Criminal Investigation and Detection Group, Camp Crame, Quezon City.
They were granted bail in August 2016 in line with the resumption of peace negotiations under the administration of former president Rodrigo R. Duterte.
However, after the collapse of the peace talks in 2017, they refused to surrender and went back into hiding. They are said to be the ones in charge of the overall operation of the NPA.
On Nov. 27, 2020, the two were convicted for the kidnapping and serious illegal detention of Lt. Abraham Claro Casis and three other soldiers in Quezon in 1988 and sentenced to up to 40 years in prison. (PNA)