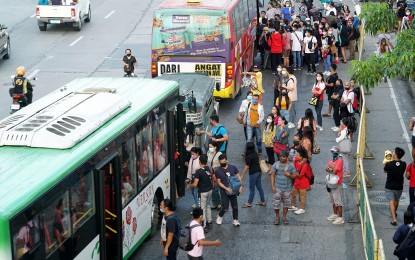 MANILA – The daily average of coronavirus disease 2019 (Covid-19) cases went down by 15 percent for the period Aug.15 to 21, the Department of Health (DOH) reported Monday.
From 4,001 per day on Aug. 8 to 14, the number decreased to 3,412 daily in the recent week.
The latest case bulletin showed there were 23,883 new cases and 321 verified deaths in the recent week.
Of the additional deaths, 90 occurred August 8 to 21.
For the same period, 101 cases were added to the tally of severe and critical infections, which went down to 811 from the previous week's 822.
Only 27 percent or 699 out of the 2,586 intensive care unit (ICU) beds are in use, while 30.2 percent or 6,677 of 22,076 non-ICU beds are utilized.
To date, about 72,310,149 or 92.59 percent of the country's target population (78,100,578) are vaccinated against Covid-19, including 78.01 percent of 8,721,357 senior citizens.
As of Aug. 21, a total of 17,419,141 have received booster shots out of the fully vaccinated population.
In a televised public briefing, infectious disease expert, Dr. Edsel Salvaña, said the increase in Covid-19 deaths is due to the backlogs in the reporting of the fatalities.
He noted that the reporting of deaths was quick in cities like those in the National Capital Region as compared with far-flung areas.
"In fact, we are seeing some deaths being reported na nangyari (which happened) last year," he said.
"So, we have to take a look at, ilan talaga dito ang number of deaths na were reported in the last couple of weeks, may delay po talaga kasi iyan (how many among the number of deaths were reported in the last couple of weeks, there's really delay in the reporting)," he added. (PNA)