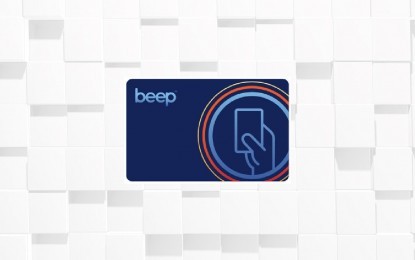 MANILA – The supplier of Beep card -- a stored value card commonly used in trains and some buses in the National Capital Region (NCR) -- is confident that they will be able to meet the present demand for their cards following reports of a possible shortage due to manufacturing woes.
In a statement on Monday, AF Payments, Inc. (AFPI) said it is still looking for manufacturers that could fulfill the production of Beep cards.
"We are confident that we can still supply the present demand in the rails and are hopeful that production will normalize by the end of the year," AFPI said.
This comes after the Department of Transportation (DOTr) on Friday warned public transport operators (PTO) to get ready for a looming shortage of Beep cards due to "global chip supply chain problems" and the return of face-to-face classes.
The DOTr asked Beep cardholders to take care of their cards and for PTOs to make the necessary adjustments in controlling the sale of their cards and communicating such issues while allaying the fears of commuters.
To date, Beep cards are used at the Light Rail Transit Line 1 (LRT-1), the Light Rail Transit Line 2 (LRT-2), the Metro Rail Transit Line 3 (MRT-3), some city and provincial buses, modern jeepneys, ferries, tollwaysand some retail establishments.
As of June, the AFPI reported the sale of around 8.5 million Beep cards with transactions worth PHP32.8 billion processed through its automated fare collection system. (PNA)