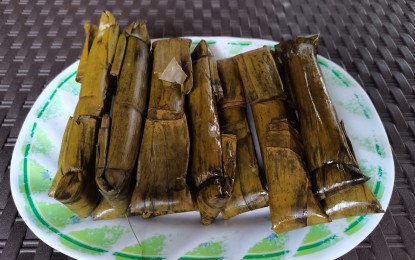 DUMAGUETE CITY – The passage of an ordinance making the famous "bodbod" or rice roll in Tanjay City, Negros Oriental as its One Town, One Product (OTOP), is seen to bolster the income of the small businesses in the area, the Department of Trade and Industry (DTI) here said on Monday.
DTI-Negros Oriental provincial director Nimfa Virtucio told the Philippine News Agency in an interview that with the measure in place, the local government unit (LGU) will allocate a budget to "professionalize the industry" and help the micro, small, and medium enterprises (MSMEs) engaged in the business.
Virtucio said with the passage of the ordinance, improvements will be made as to the production of the bodbod, such as regulations in size and uniformity in taste, among others.
She noted that in the absence of "regulation", some bodbod pieces are currently thinner than the others.
"We are also willing to help these producers in coming up with a packaging that is acceptable or competitive in the world market," she said.
The DTI official also noted the need to improve the shelf life of the delicacy, which tends to spoil in just a few days with the highly perishable coconut milk as one of its ingredients.
Organizing these bodbod makers and accrediting them with the LGU will also give them leverage in the marketing sector, she said.
The Tanjay City OTOP ordinance, crafted by the Negros Oriental Chamber of Commerce and Industry (NOCCI), is the first of its kind in the province and in Region 7, said Dumaguete-based businessman Edward Du.
Du, a former NOCCI president and ex-regional director of the Philippine Chamber of Commerce and Industry in Central Visayas (PHCCI), is a strong supporter of MSMEs and the passage of the OTOP ordinances in Negros Oriental to help small businesses prosper.
The ordinance, which was unanimously passed by the city council last Friday, said there are more than 100 homegrown bodbod makers in Tanjay.
The native delicacy has been around for over a century and is closely associated with the city.
It is now famous not just among the locals but also among domestic and international tourists who savor this delicacy and even take some home with them as "pasalubong" (souvenir).
It is best eaten with "sikwate" or local chocolate drink or with fresh, ripe mangoes.
Two other OTOP ordinances being pushed in Negros Oriental are the Mt. Talinis Dark Chocolate in Valencia town and the Baslay coffee in Dauin town, Virtucio said. (PNA)