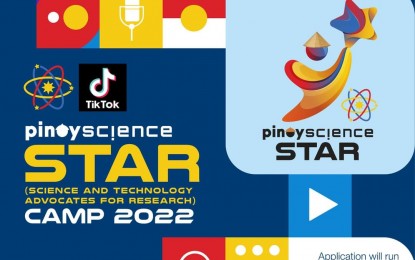 MANILA – The Philippine Council for Industry, Energy and Emerging Technology Research and Development (PCIEERD) and video-sharing platform TikTok on Monday launched the STAR (Science and Technology Advocates for Research) Camp, a search for content creators who will promote this field.
Three individuals will win USD500 worth of TikTok promotional coupons; certificates; Pinoy Science and TikTok badge; and merchandise from PCIEERD and TikTok.
Two individuals will receive the same perks, except that their TikTok promotional coupons will only amount to USD250.
PCIEERD said these coupons can be used to promote the winners' videos on TikTok.
"We are optimistic that this partnership will help the public better understand science and use it in their everyday lives," PCIEERD Executive Director Enrico Paringit said during the online launch.
He said there are close to 36 million Filipinos who are using TikTok as of early this year.
"This shows a vast potential for science communication if we learn how to harness the power of social media," Paringit said.
He urged scientists, researchers, science communication practitioners and students to join this completion and present their science concepts into an entertaining manner.
Aside from the prizes, Paringit said winners will also be exposed to a network of science communication experts who will help them hone their craft.
From Aug. 22 to Sept. 22, individuals 18 years old and above may upload their entries. The video should contain an introduction and an explanation on the science behind one of PCIEERD's technologies.
Video should also show why they should be chosen as a Pinoy Science STAR.
Entries will be judged based on these criteria: delivery of scientific knowledge -- 35 percent; accuracy of information -- 25 percent; visual appeal -- 20 percent; creativity -- 15 percent; and online impact -- 5 percent.
Semi-finalists will be invited to a virtual training to improve their skills. Ten entries in the semi-finals will move to the final round which is a two-day learning activity. The winners will be announced on the second day of the program.
One may visit the PCIEERD's Facebook page for more details. (PNA)