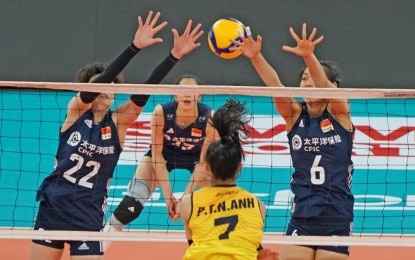 MANILA – China rolled to its second straight win on Monday to boost its title defense in the Asian Volleyball Confederation (AVC) Cup for Women at the PhilSports Arena in Pasig City.
Banking on Zhou Yetong, Zhuang Yushan, Wu Mengjie and Hu Mingyuan, the Chinese squad outplayed Vietnam, 3-2 (25-12, 25-6, 29-31, 21-25, 15-12), to lead Pool A in the preliminary round.
Zhou finished with 27 points, including four blocks, while Zhuang had 21 points. Wu and Hu contributed 17 and 16 points, respectively.
Vietnam rallied behind Vi Thi Nhu Quynh, Pham Thi Nguyet Anh and Tran Thi Thanh Tuy to win the third and fourth sets, but China hang tough to prevail.
Vi Thi Nhu Quynh finished with 14 points while Pham Thi Nguyet Anh and Tran Thi Thanh Tuy scored 13 points each for Vietnam, which absorbed its first loss after pulling off a 3-0 (25-19, 25-17, 31-29) victory over the Philippines last Sunday.
Earlier, Japan defeated Chinese Taipei, 3-0 (25-22, 25-22, 25-22), to stay on top of Pool B with two wins.
"We're getting better little by little. The fact that we're winning, two games in a row, that's great" said Japan setter Mika Shibata through an interpreter after the match.
Yuki Nishikawa topscored with 11 points while Mizuki Tanaka, Asuka Hamamatsu and Miyu Nakagawa scored nine points each for Japan, the 2018 runner-up.
Chang Li-Wen led Chinese Taipei with 15 attacks and one block while Lin Shu-Ho had eight attacks, one block and one ace.
Meanwhile, Thailand bounced back from its opening-day loss, beating Australia, 3-0 (25-9, 27-25, 25-13).
Pimpichaya Kokram had 14 attacks and two aces for the Thais, who bowed to Japan, 18-25, 19-25, 22-25, last Sunday. (PNA)