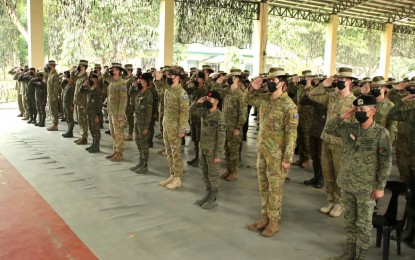 MANILA – Around 500 Filipino and Australian troops will be exchanging knowledge and skills on jungle and urban operations in a more than two-month long bilateral training maneuvers dubbed "Exercise Kasangga".
In a statement Tuesday, Philippine Army (PA) spokesperson Col. Xerxes Trinidad said the exercise formally started on Monday and will end in October at Camp Pablo Tecson in San Miguel, Bulacan.
"The PA, through the First Scout Ranger Regiment (FSRR), and the Land Mobile Training Team of the Australian Army commenced Exercise Kasangga aimed at bolstering defense ties and strengthening interoperability between the two armies in urban and jungle operations," he added.
Trinidad said FSRR and the 3rd Battalion of the Royal Australian Regiment troops would share skills and knowledge on jungle operations.
"Meanwhile, Australian troops will assist FSRR troops in sharpening their urban operations capabilities," he added.
Around 400 FSRR troops will train side-by-side with nearly a hundred Australian troops in the ongoing bilateral exercise.
"The exercise is in line with the thrust of the Army leadership to enhance the individual skills of soldiers and unit capabilities," he added. (PNA)