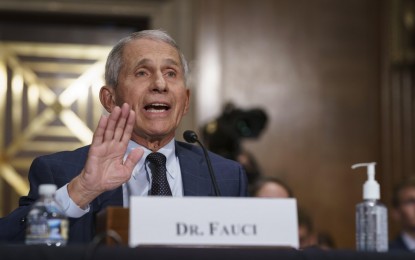 WASHINGTON – Anthony Fauci, the man who has led the US response to the Covid-19 pandemic, announced on Monday that he is stepping down from his post later this year.
Fauci, 81, has served under seven presidents as the director of the National Institute of Allergy and Infectious Diseases (NIAID), beginning with Ronald Reagan in 1984.
He is currently the US' leading infectious disease expert, and has helped guide the country's response to several health crises, including AIDS, Ebola, Zika virus and Covid-19.
"It has been the honor of a lifetime to have led the NIAID, an extraordinary institution, for so many years and through so many scientific and public health challenges," he said in a statement.
Fauci's departure from NIAID will not take effect until December, and he said he would be moving on "to pursue the next chapter of my career."
"I want to use what I have learned as NIAID Director to continue to advance science and public health and to inspire and mentor the next generation of scientific leaders as they help prepare the world to face future infectious disease threats," he said.
Expectations had grown that Fauci would announce his departure from public service after helping the US navigate the worst public health crisis in modern history, and he had hinted for some time that his exit was forthcoming.
Biden lauded Fauci, calling him a "dedicated public servant, and a steady hand with wisdom and insight honed over decades at the forefront of some of our most dangerous and challenging public health crises."
"Whether you've met him personally or not, he has touched all Americans' lives with his work. I extend my deepest thanks for his public service. The United States of America is stronger, more resilient, and healthier because of him," the president said in a statement. (Anadolu)