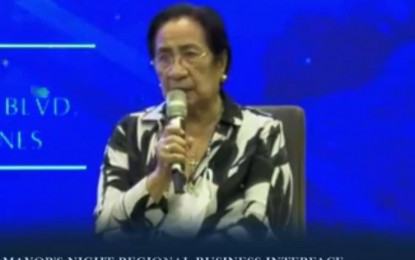 ILOILO CITY – A fourth-class town in Iloilo province on Monday evening presented its business and infrastructure development plans, which also gave business groups a glimpse of possible areas of investment that the municipality could offer.
San Miguel Mayor Marina Luz Gorriceta announced that their PHP130 million new market would open soon and their new "AA" slaughterhouse would start to operate on September 16, while more projects are being lined up in the next three years.
Gorriceta bared her municipality's development plan during the Regional Business Interface hosted by the Iloilo City government and the Philippine Chamber of Commerce and Industry - Iloilo chapter.
The business interface is among the activities of the Iloilo Business Week for Iloilo City's 85th Charter anniversary on August 25. It gathered top public and private sector leaders who were given a peek at investment opportunities in Western Visayas.
Gorriceta, Iloilo City Mayor Mayor Jerry Treñas, and Negros Occidental Governor Eugenio Jose Lacson talked about their development plans.
In addition to the two big projects, Gorriceta noted that their local government is eyeing a retirement village with a shelter for both paying and indigent elderly.
"We already have the plans for that but unfortunately, we didn't have the lot. Now we are in the process of buying a site," she said.
The village will be complete with such amenities as a rehabilitation center, health facility, recreation area, and a church.
Gorriceta added that they are also looking into constructing a multipurpose commercial complex where the ground floor would be for commercial purposes, the second floor to serve as the training and assessment center of the Technical Education and Skills Development Authority, and the top floor to serve as the town's Business Process and Licensing Office.
Aside from infrastructure development, the local government is also out to assist farmers in marketing their produce by creating a Municipal Enterprise Economic and Development Office that would purchase agricultural products from Bayanihan Tipon Centers (BTCs) in Panay that would be consolidated at the Local Food Terminal (LFT) in the town's Barangay 8.
The LFT and the BTCs are components of the Panay Island Sustainable Rural Development Project to provide upland producers with a direct link to the market.
"We will buy all the products that will be brought to the terminal, especially palay, and we will look for buyers where we can also earn," she said.
San Miguel is part of the Metro Iloilo Guimaras Economic Development Council, which is tasked to "formulate, coordinate, and monitor programs, projects, and activities for the acceleration of the economic growth" of the areas covered in support of the Mega-Region Economic Development Strategy of the national government. (PNA)